The Antique Marks Glossary - Antique Terms (Q)

Here you will find antique terms and related words beginning with Q and covering everything from Qing to Quimper and Queens Ware to Quaich plus many more that you might find useful.
Organised alphabetically; simply scroll through the list of antique terms or use the search function in the sidebar to find all mentions of the word or phrase you're looking for.
qingbai (ceramic - chinese - porcelain)
Chinese porcelain form the song dynasty (960-1279) referring to the translucent misty-blue glaze. also known as yingqing.
Today wares are mostly bowls dug out of burial grounds. Modern reproductions have been produced in hong kong and taiwan.
qing dynasty (period - chinese - ch'ing - 1644-1911)
The last of the chinese dynasties consolidated in the 1680's under the emperor kangxi (1662-1722). Ended in 1911 and during it the famille rose and famille verte palettes were established.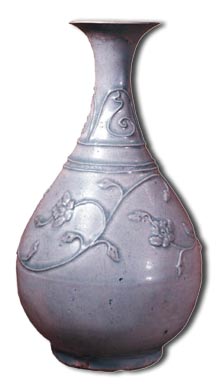 Qing Includes the following periods :
Shunzhi (1644-61)
Kangxi (1662-1722)
Yongzheng (1723-35)
Qianlong (1736-95)
Jiaqing (1796-1820)
Daoguang (1821-50)
Xianfeng (1851-61)
Tongzhi (1862-74)
Guangxu (1875-1908)
Xuantong (1909-11)
An instrument used in navigation for measuring altitude, made up of a quarter-circle of wood or metal marked with a graded scale of angles. From the late 16thC quadrants made of brass, or brass and mahogany, with a pivoted radius, or index arm, came into use.
quaich (silver - scottish drinking vessel)
A drinking vessel - The Quaich (pronounced "quake", from the Gaelic word "cuach") is a uniquely Scottish invention, having no apparent connection to any other European drinking vessel.
A traditional Scottish drinking vessel to offer a guest a cup of welcome and also as a farewell drink, usually a dram of whisky. Travellers were known to carry a quaich with them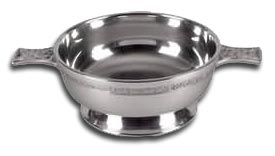 They were used for whisky and brandy but there were some larger quaichs used for ale. (The largest surviving examples having capacity of about 1.5 pints).
It is believed that their ancestor was the scallop shell, in which drams of whisky were taken in the Highlands and Islands. Like the shells, quaichs were always wide and shallow. The distinctive shape has been fixed for more than four hundred years.
The English and Colonial American counterpart of the Scottish quaich is the porringer, made with a single handle. The Sami and Norrland, Sweden, equivalents are the pahkakuppi and the kåsa, which also have a single handle.
The Quaich has a rather unique history and is surrounded by myth and mystique. In ancient times, during the Celtic period, it is believed that Druids filled the quaich with blood from the heart of sacrificed humans.
It has a special place in the heart of all who know something of its history and is a prized possession of many people who have an association with Scotland. It is always remembered in its traditional use as a visitor's welcome or farewell cup by proud clan chiefs, worthy merchants or humble crofters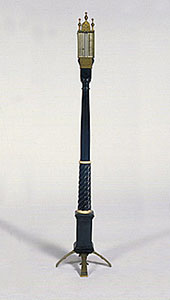 daniel quare (clocks & watches - clockmaker - repeater mechanism)
One of the most well renowned English clockmakers of his time, (1649-1724) as well as a maker of barometers and mathematical instruments.
His business prospered thanks to a wealthy, high-ranking clientele.
Almost all of Quare's elegant barometers are of the column type: they are housed in a wooden or ivory column resting on brass feet; at the top is a glazed brass box displaying the barometric tube and measurement scales.
quarrels (militaria - crossbow)
A quarrel or bolt is the term for the ammunition used in a crossbow. The name quarrel is derived from the French carré, "square", referring to the fact that they usually have square heads.
quartering furniture - veneer - four sided)
A type of veneering using four pieces of wood with the same grain pattern to form a surface. Each quarter has a pattern that is a mirror image of the one alongside
quartetto tables (furniture - table - set of four - nest)
A set of four small tables, slightly decreasing in size from one table to the next, so that they can be fitted into each other to form a nest or used separately.
quartz gemstone - amethyst - citrine - cairngorm)
The most common of stones, used for decoration since the Classical period. When free from impurities, it is a colourless rock crystal; other forms most commonly used as gemstones the amethyst in all shades of violet, the cairngorm in yellow and brown, and the yellow citrine which is often wrongly referred to as topaz.
The physical properties of quartz are such that when an electric current is passed through a precision-cut piece of quartz it pulsates regularly. This is used in clocks and watches in place of mechanical escapements to regulate the driving force of an electric battery, resulting in much greater accuracy.
The first quartz clock movement was invented by W.A. Morrison of the Bell Laboratories in 1929.
quartz glass glass - art glass - crackle effect - frederick carder)
The trade name for crackled-effect art glass developed by the English designer Frederick carder for the steuben glassworks in the USA.
A gather of molten glass was dipped into cold water, which created a fine network of cracks on the outer surface. The glass was then reheated to fuse the cracks and rolled over powdered glass. The whole was then covered in clear coloured glass. Sometimes the outer surface was treated with acid to give a satin finish.
queen anne (style - british - architecture & furniture)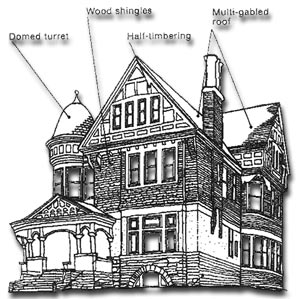 An early 18thC British design style that developed principally during the reign of Queen Anne (1702-14).
In the late 19thC, a version known as Queen Anne Revival emerged in architecture and reproduction furniture
The Queen Anne Style of British architecture in the 1870s (the industrial age) was popularised by George Devey and the better-known Richard Norman Shaw (1831–1912).
Norman Shaw published a book of architectural sketches as early as 1858, and his evocative pen-and-ink drawings began to appear in trade journals and artistic magazines in the 1870s. American commercial builders were quick to pick up the style.
The British Victorian version of the style is closer in empathy to the arts and crafts movement than its American counterpart.
Its historic precedents were broad: it combined fine brickwork, often in a warmer, softer finish than the Victorians were characteristically using, varied with terra-cotta panels, or tile-hung upper stories, with crisply painted white woodwork, or blond limestone detailing: oriel windows, often stacked one above another, corner towers, asymmetrical fronts and picturesque massing, Flemish mannerist sunken panels of strapwork, deeply shadowed entrances, broad porches, in a domesticated free Renaissance style.
Queen Anne Style buildings in America came into vogue in the 1880s, replacing the French-derived Second Empire as the "style of the moment."
The popularity of high Queen Anne Style waned in the early 1900s, but some elements, such as the wraparound front porch, continued to be found on buildings into the 1920s. See: Identifying Antique Furniture and Furnishings.
queens ware (ceramic - creamware - wedgwood)
A type of wedgwood ceramic named after the gift of a tea set to Queen Charlotte, consort of George III, produced the appointment of Wedgwood as Potter to Her Majesty in 1765.
Wedgwood immediately named his range of cream coloured tableware Queen's Ware.
Wedgwood knew the demand for the product that graced the Queen's table would fully establish his successful factory as the top of the market
By 1775 Wedgwood's Queen's ware was being imitated all over Europe as the Continental potteries reacted to his virtual monopoly in high quality earthenware.
In France the imitation wares were known as faience anglaise and this superior product replaced the traditional tin-glazed eathernware in the European potteries. By the end of the century the traditional wares were only produced at Delft and in small provincial French potteries.
The Queen's ware body was used primarily for tableware but was occasionally employed in the production of decorative works as well. In about 1850 Wedgwood introduced a range of embossed Queen's ware. Similar in design and decoration to the Jasper ware range with raised designs in contrasting colours, it became quite popular for ornamental vases, candlesticks and dresser pieces as well as tableware. See: Wedgwood Antiques Shop
quilling (decorative technique - paper filigree)
Quilling or Paper Filigree is an art form that involves the use of strips of paper that are rolled, shaped, and glued together to create decorative designs.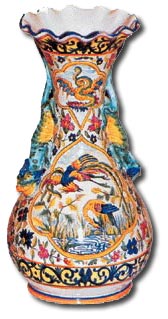 During the Renaissance, French and Italian nuns and monks used quilling to decorate book covers and religious items. The paper most commonly used was strips of paper trimmed from the gilded edges of books. These gilded paper strips were then rolled to create the quilled shapes. Quilling often imitated the original ironwork of the day
The name quilling is said to be derived from the fact that the nuns and monks originally used feather quills as their tool to roll the paper.
quimper (ceramics - french pottery)
A fench pottery company; pronounced kem-pair situated in brittany in north-west france.
Quimper pottery began in 1690 with the arrival of Jean-Baptiste Bousquet.
Bousquet started a factory in the section of Quimper known as Loc-Maria where he specialised in the production of tablewares and clay pipes.</p