Our Art Deco Gallery featuring examples of the diversity and quality of items produced during the art deco period.
A gallery of the ever popular art deco style. The architectural and decorative-arts style popular from 1910 to 1940, that is characterised by highly stylised and geometric forms.
Art Deco themes were often classical motifs reduced to geometric stylisations.
From Edgar Brandt decorated wrought-iron screens with symmetrical fountains and Emil Ruhlman ebony cabinets with ivory inlay depicting floral arrangements of geometrical precision.
René Lalique etched scenes, such as a graceful striding female with a wolfhound or gazelle, into crystal or frosted glass; and Jean Puiforcat and Daum depicted abstract geometric forms.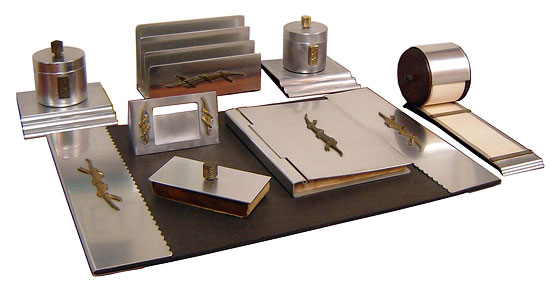 Lurelle Guild 8 Piece Art Deco Desk Set
An American Art Deco aluminum with brass trim desk set.
Designed in 1934 by Lurelle Guild (1898 – 1986) for the Kensington subsidiary of Alcoa in the Waverly pattern.
The set consists of the 7000 blotter holder, the 7001 memorandum book, two 7003 ink & pen holders, the 7004 calendar holder, the 7002 correspondence rack, the 7008 blotter and the 7013 memo roll.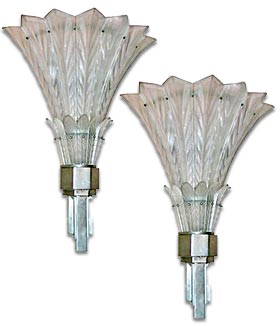 Sabino Art Deco Wall lights
A fine Pair of art deco wall lights by Sabino, France c1925. With frosted glass shades and silvered bronze sconces. Marked "Sabino Paris", "Made in France". Commissioned for the Arcadian Court Resturant, in Simpson's Department Store, Toronto, Canada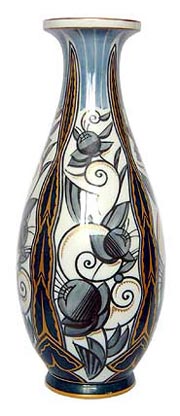 Art Deco Vase by Sevres Porcelain
A fine Art Deco hand painted and gilded vase by Sevres, France 1927.
Marks : Paper label: Le Pavillon de Sevres Ltd. Stamped Marks: S 1927 DA Made in France and the artists monogram.
Art Deco Sculpture by Lazlo Hoenig
Fine Art Deco carved fruitwood and bronze head of an ibex by Lazlo Hoenig, England circa 1940.
Hoenig was a worker at the Hagenauer Werkstatte who came to London and established his own workshops. Marks: LAHO London Made in England and the Hoenig monogram.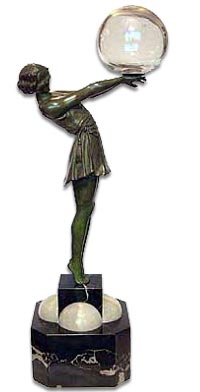 Bronze Art Deco Sculpture by Armand Godard
Art Deco bronze figure of a dancer balancing a bubble of glass, on marble base with original glass ball by Armand Godard.
France circa 1930. Marks: Signed A. Godard
Art Deco Vase by Limoges Porcelain
Limoges Vase dating c1930 by Henriette Marty utilising enamel on copper.
Limoges, Municipal Museum of Eveche.
Purchased 1990 Colonial Exposure, Paris, 1931.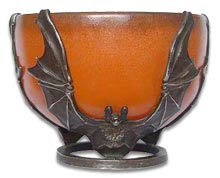 Art Deco Bowl by D'Avesn
Fine and rare Art Deco enamelled glass bowl in a silver plated bronze mount in the form of three bats.
Made by Pierre D'Avesn (a subsidiary of the Daum glass factory).
France circa 1927. Marks: Val (Verreries D'Art Lorrain)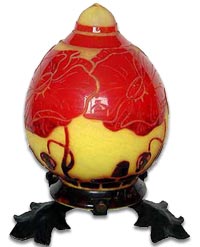 Art Deco Gallery: A Cameo Glass Lamp by Schneider
Art Deco Le Verre Francais cameo glass and wrought iron night lamp by Schneider.
France circa 1925. Marks: Le Verre Francais France
Art Deco Gallery Beautiful Art Deco collectables come in many shapes and sizes and not all are as stunningly beautiful as the above examples. Start your own collection by collecting pieces from the major manufacturers rather than these truly exceptional one-offs by named and well known art deco artists.