Hi, I have a beautiful William Moorcroft florian Ware vase and I am reasonably sure it dates to around 1898.
It has the William Moorcroft signature mark and the Jas Macintyre & Co. Florian Ware base mark.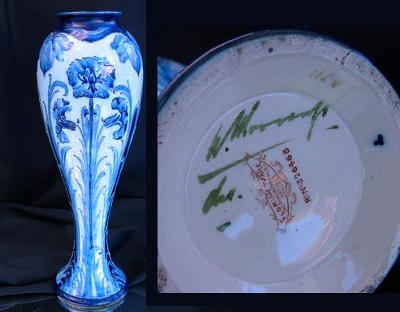 The William Moorcroft signature is in green and has 'Des' below with Rd No.320468 and 'No.701'.
The victorian antique marks page puts the Rd number at around 1898.
I'm just wondering if anyone could possibly tell me what pattern the vase is?
Thank you,
Geraldine
Comments on Geraldine's William Moorcroft florian Ware vase
Your MOORCROFT vase by: Ross harwood
Hi Geraldine, you have a lovely vase and it's a MACINTYRE dianthus design. many thanks.
Moorcroft Florian dianthus by: Phil
I think its dianthus