Help with Wedgwood Jasperware teapot that has spout but no handle.
by James E. Franklin (Baltimore, Maryland USA)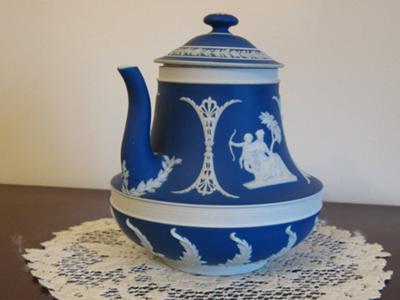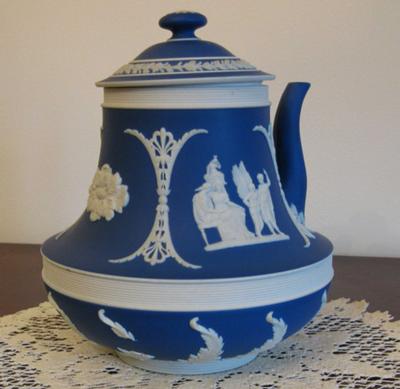 We recently inherited a large amount of Wedgwood.
Although we have been able to identify and value almost all of it, this piece has us baffled.
It appears to be a Wedgwood Jasperware teapot with a spout but no handle.
While value is not a top priority, it would help us decide whether to display or hide it.
I've included three photo's showing the Wedgwood Jasperware Pot spout side, the lack of a handle and the underside with Wedgwood Jasperware marks
Any help is greatly appreciated.
Thanks in advance for any help,
James
Comments on James' Wedgwood Jasperware Pot :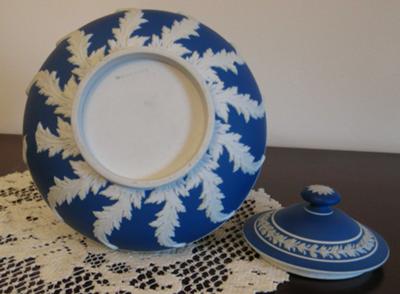 Thank you, Derek by: James
Based upon your comments and some additional research, my wife and I conducted, not only do we concur with your observations, but believe that the teapot was never fitted for the holder.
There are no use stains inside and there is absolutely no wear at the places the holder would have been.
The only mystery remaining is the date. Some believe in the 1870's, claiming the missing year mark happens quite often. We had thought pre-1860.
We now display this piece next to our Queensware inauguration tea set in our china cabinet.
Thanks again for your help.
[divider style="hr-dotted"]
Jasperware Teapot Missing Holder by: Derek
James, your Wedgwood teapot looks to be missing its holder.
It was probably designed to be seated in a silver holder which would have incorporated the handle.
The shaped base certainly looks as if it's formed for that purpose.
Certainly a lovely piece of Wedgwood Jasperware in any event.