Baron Victor Horta was born in Ghent, Belgium in 1861.
He studied drawing, textiles, and architecture at the Academy of Beaux-Arts in Ghent, then went to Paris to work.
He then returned to Belgium and drafted for Classical architect Alphons Balat.
In 1890, Victor Horta set up his own firm.
In 1893 he designed what is widely regarded as the first architectural expression of mature Art Nouveau, namely Tassel house in Brussels.
His innovative use of exposed ironwork and open-plan space characterised Horta as one of the pioneers and leading practitioners of art nouveau architecture.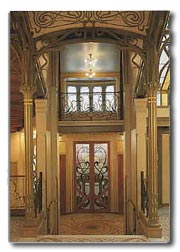 He abandoned the neo-classical style of his schooling years in favour of an innovative art nouveau approach that built on irregular shapes and lush curved lines.
His first major work, Hotel Tassel (1892-1893), in Brussels, set forth his principal themes:
He used exposed cast iron as a structural material; produced a centralized floor plan in place of the traditional corridor arrangement; and paid close attention to ornamentation.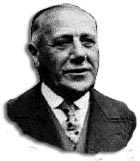 He supervised the interior decoration and even the furniture design in all of all his buildings
His characteristic flowing whiplash lines, inspired by vegetation, were prominent in his wall decorations, doors, and staircases
The Horta lines are exemplified in his most lavish private house, now the Hotel Solvay (1894) in Brussels.
In public buildings such as the Maison du Peuple (1899, destroyed 1964), the Brussels headquarters of the Belgian Socialist party, he produced glass and iron facades that were some of the most advanced of the day.
The many works of Victor Horta include:
1889 - LAMBEAUX SCULPTURE PAVILION. Brussels
1890 - MATTYN HOUSE. Brussels
1892 - TASSEL HOUSE. 1892-3. Brussels
1893 - AUTRIQUE HOUSE. Brussels
1894 - FRISON TOWN HOUSE. Brussels
1894 - WISSINGNER HOUSE. 1894-03. Brussels
1895 - HOTEL SOLVAY. Brussels
1895 - HOTEL VAN EETVELDE. 1895-98. Brussels
1896 - MAISON DU PEUPLE. 1896-8. Brussels
1898 - HORTA HOUSE. now MUSEE HORTA. Brussels
1901 - A L'INNOVATION DEPARTMENT STORE. 1901-3. Brussels
1902 - BELGION PAVILION, INTERNATIONAL EXPOSITION OF DECORATIVE ARTS. Turin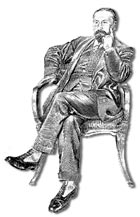 1902 - MONUMENT TO BRAHMS. Vienna
1903 - GRAND BAZAAR DEPARTMENT STORE. Frankfurt
1903 - WAUCQUEZ DEPARTMENT STORE. 1903-5. Brussels
1903 - HALLET HOUSE. Brussels
1906 - WOLFERS BUILDING. Brussels
1906 - BRUGMANN HOSPITAL. 1906-26. Brussels
1914 - HALLE CENTRAL, MAIN RAILWAY STATION. 19144-52. Brussels
1925 - PALAIX DES BEAUX-ARTS, EXPOSTITION DES ARTS DECORATIFS. Paris
1928 - MUSEUM OF FINE ARTS. Doornik
Baron Victor Horta art nouveau designs were an important European predecessor of the modern 20th-century International Style, particularly his use of exposed structural ironwork and glass facades.