This Cockatiels Watercolor by an artist named Turner, was my grandmothers
by Suzanne Wilson (Waldron, AR)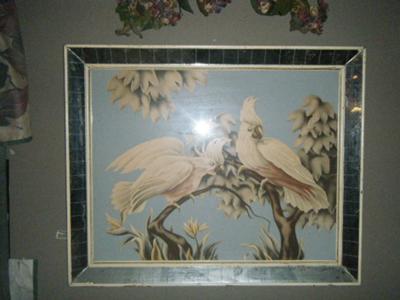 Gran was honored with the Turner watercolor on a Mothers Day at church long ago for having the most family members at church that day.
My grandfather unusually decided to come with her that day making her family the most in attendence that day.
I have always remembered that painting in her house and it gave me so much peace to see it.
I asked her for the turner watercolor before she died and she gave it to me.
It is in it's original mirror frame. It did fall off the wall at her house before I received it, and I had to replace the original glass with plexiglass as the other broke, but it didn't damage the picture. I reinforced the frame with 'L' bars and now it hangs in my house.
My grandmother died at about age 96. So the Cockatiels Watercolor painting must be around 65 years old.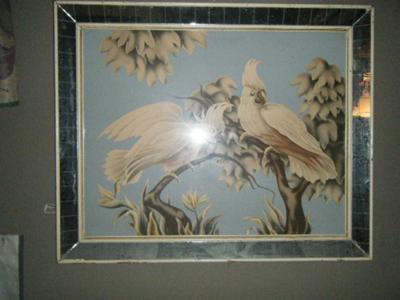 I think it is a painting but not ruling out a print, but it looks painted at close inspection.
I have always wondered about it's origins and would be very interested in finding out about it.
It doesn't really matter if its valuable or not. I would never sell it.
Let me know if you have ever seen anything like this. I'm very curious to know more.
Suzanne.
Comments on Suzanne's Turner Watercolor Painting of Cockatiels
Turner print -- magnolia/butterfly by: Joanie
Twenty years ago I was given a Turner print of a butterfly on a magnolia blossom with a blue background. It was in fragile condition but I have taken good care of it. My last name was Turner at the time and that was the reason a friend gave it to me. Does anyone know the artist's first name?
[divider style="hr-dotted"]
Turner paintings by: Rinda
I found 2 cockatoos and 2 egrets by Turner. They were given to me 20 years ago. They are smaller in size. Frames are 9.5 by 10.5. Wooden frames- ivory color with darker forrest green on edge.
I noticed the backs are sealed with brown paper with a blue stamp on each. Any value to these?
[divider style="hr-dotted"]
Re: newest Turner w/ farm house and people by: Lynne
Hi. There was one very similar to yours on eBay several months back. I was interested in buying it as it went with my plain landscape.
I believe it was started around $300 and re-listed at about $200+. If yours is like that one, which it sounds like it is, yes you have a TURNER.
The birds are hard to find but the landscapes are seldom seen.
[divider style="hr-dotted"]
turner landscape by: Anonymous
I have a Turner landscape...farmer and wife looking out over their field, farmhouse in distance...its signed turner with a 1 in a circle after the name...does this belong to the same Turner?
[divider style="hr-dotted"]
Just bought the swans by: Mark in Indiana
I have the cockatoo one also - when I saw the swans, I knew they were the same artist.
This swans print was in a ratty old frame someone had tried to re-paint white. Was sure it was the original frame, but I like them even better re-framed. They are watercolor/air brushed - the colors are very vibrant and fresh - but you can tell they have age to them. The canvas is yellowed on the back.
I now plan on finding the rest of the Turners. I hope I can find pictures of the others so I know what I am looking for. I have seen these swans on the West coast for $300 - much less here in Indiana, but since they are originals, they are all unique and not the same colors. They make wonderful conversation pieces.
[divider style="hr-dotted"]
not cockatiels by: Mary
I have the picture of the cockatoo's. I paid $70 for it in a second hand store in Colorado. I love it, just FYI the birds are cockatoo not cockatiel.
I know this as i have a cockatoo!  thanks Mary
[divider style="hr-dotted"]
Turner by: Suzanne
Are you saying that Turner is a woman? And to find that the paintings are watercolor airbrushed makes perfect sense in how it looks.
How did you find out so much about it?
[divider style="hr-dotted"]
Turner by: Suzanne Wilson
I would love to see photographs of the other Turner paintings. Thank you for sharing.
I wish I knew more about the furniture that that store sold. My grandmother got her painting for having the most family members at church on Mother's day. I wonder if the store donated one of the pictures to the church for that purpose?
Is that store still open today? What was the name of that store and can it be researched? I know we lived in California at the time she received it.
Does anyone know anything about the furniture store?
[divider style="hr-dotted"]
Rl Turner by: Anonymous
I have been collecting Turner for many years and have 5 large mirrored prints. I have the flamingos, cockatoos, swans, egrets and the bluebirds. I have averaged paying $200 each. I have only seen the bluebird print once and feel it to be extremely rare.
RL Turner's prints are watercolor airbrushed. She was more known for her furniture line and did the artwork as complimentary pieces. She also did flamingo mirrors.
I have tried to research Turner on the internet with no success and once read up on her in a book I found in an antique store in California.
I know there are other egret prints available as I have one smaller size and remember seeing the companion picture I now wish I had purchased.
Hope this helps us Turner fans.
[divider style="hr-dotted"]
Turner LANDSCAPE by: Anonymous
Hi. I am in my 70's and have been an antiques dealer most of my life. Once bought and sold Turner birds like mad.
The other day I was at a thrift shop and found a Turner LANDSCAPE. All original with a non mirrored frame.
In all my years and wanderings this is the very 1st landscape I have encountered. Fits with the birds perfectly yet there are no birds.
Has anyone else seen a "swampy" landscape? Thanks!
[divider style="hr-dotted"]
Turner's by: Maggie
I have 4 Turners bought in CA in 70s. 3 are large in original mirrored frames: Cockatoos, Flamingos and Eafrets (or Cranes), plus a smaller one if the swans, not in mirrored frame.
I paid $30-$60 each and don't think they're worth more than $100 or so now, there are many, but love them.
[divider style="hr-dotted"]
A Still Life with flowers and statue by: Sheila
I have a 'Turner' that I found for $8 in a Salvation Army back in the 70's. I thought I had an original due to the excellent quality of the paper and bleed-over of the paints to the back of the paper but this may be a completely erroneous perception on my part.
The frame is trashed, however-no mirror left but it's just an exquisite picture. Looks like airbrush to me. Exceptional airbrush.
It is of a floral arrangement with a small statue in the form of a woman, in rusts and beige & rose colors.
[divider style="hr-dotted"]
Turner mirror framed prints by: Jaylo
I bought one at a flea market several years ago of the Egrets...(I think they are egrets) and paid $45....just bought another on Ebay for $230 ...made offers to get it down from $375.... the mirror framed ones are hard to find. I think they are worth about $300... I now will have a pair . so happy ! : )
[divider style="hr-dotted"]
response to annonymous by: Suzanne Wilson
I believe you are right. I seem to remember a story like that from grandma, but I can't remember what piece of furniture she bought. I wonder if there is any value for these pictures?
[divider style="hr-dotted"]
Turner Birds by: Anonymous
If you are ever in Laguna Beach CA, go to a restaurant called Dizz's It is on Pacific Coast Highway at Nye Ave. They have a nice assortment of the old Turner bird mirrors. Excellent food too, by the way, a little pricey but a great atmosphere. Plus you get to see the Turners.
[divider style="hr-dotted"]
Turner Cockatiels by: Gigi in Alabama
I have the same one. We found it in a farm house we bought in indiana around 1971 or 1972. I'm curious as to how much it is worth as well.
[divider style="hr-dotted"]
Turner Mirrors by: Anonymous
Turner was a furniture mfg co in - I think - Chicago. They made furniture and part of their hook was, buy a piece of furniture, get a free wall piece - the mirrors feature flamingos, cockatoos, egrets. Maybe others.
I'm no expert but I bought a piece off a guy in So Cal and he seemed to know a lot about it. They arent' necessarily valuable as antiques or collectibles, but I own a few of them and I love them and to me they are priceless.
The mirrored frank is important I think.
[divider style="hr-dotted"]
Turner Mfg. Co by: Denise
In researching online I've found that Turner Manufacturing Co. was an art manufacturing company in Chicago, IL that employed people to paint reproductions using an 'oiletted' technique.
They sold mirrors, mirrored frames, art, etc. inexpensively. One person worked there in the 1950's; apparently it went out of business in 1975.
Turner is not the name of the artist, but rather the name of the company that manufactured inexpensive art reproductions and decorative items.
[divider style="hr-dotted"]
I have the cockatiels, also by: Denise
I have a print of the cockatiels by Turner, found recently in a second hand store in Sevierville, TN. I paid $25 for it; the original rattan frame was painted red and I reframed it. The print paper is very thick, like wallpaper quality.
If anyone has information on the artist, it would be interesting to know more about it.
[divider style="hr-dotted"]
Have one of parrots by: Matt
I have one from my grandparents home in Cincinnati, love it but can't find out about the artist. Anyone have more details? mford@ix.netcom.com
[divider style="hr-dotted"]
two swans and pink lilly pads by: margaret
I'm so very happy I did not give up on looking for this mirror picture and mirrored frame. My mom and dad have that very same one.
The frame is exactly like the cockatiel painting and it is 22in x 32 ½in.
I was born in 1964 and my parents had this in their bedroom. I am very glad I kept it.
[divider style="hr-dotted"]
turner swans by: Lisanne
I have the two Turner swans with lilly pads. Large in off white frame (frame looks original) and fits in with a timeframe of the 1950's that some of you are mentioning.
Bought it at an antique store in the Charlott, NC area. Has some water damage around the sides, but they don't seem to matter as they just sort of echo the ripples of the water in the subject.
I have them in a bedroom which is done in white and mirror art deco style and they look great in there. Love them. Sorry it is damaged though. I suspect it is a print.
I see the southern belle ladies quite often and like them too, but the swans are so restful. Hope someone can find something out about the artist and post it here.
[divider style="hr-dotted"]
Turner Watercolor Painting-Cockatiels by: esimpson750@yahoo.com
I have one, it was my grandmothers. we have family pictures from the early fifties wlth the picture on the wall. I have no idea how old it is. however, this one is in excellent condition. everything is perfect. not a scratch.
The mirrors are all there. Unscathed. The frame is untouched and perfect. I was shocked to find the painting was watercolor. If you know anything about this painting please contact me.
[divider style="hr-dotted"]
I had no idea! by: Suzanne
Wow! I had no idea that there were so many Turner water paintings out there. I wish we all knew more about them. I wish someone at the Antique's Roadshow would log on and tell us anything they find out. That would be nice.
[divider style="hr-dotted"]
Southern Belles by: Roberta
I have 2 southern belle paintings by turner
[divider style="hr-dotted"]
cockatoos not cockatiels ? by: Sarah
I recently bought this same print at a garage sale.It's in the original frame(not mirrored as this one is & it's been painted over several times) It has 'cockatoos' stamped onto the original backing paper.
I paid $25.00 for it,she wouldn't be talked down as she said she paid 65.00 from an antique dealer.
My brother in law seems to think that even though it's a print it may be worth around $350.00 if its a real Turner print. Who knows for sure ?
I just thought it was an awesome old print. But it would be interesting to find out.
[divider style="hr-dotted"]
turner watercolors by: Anonymous
I have 3 turner watercolors two of which are in original frames with bamboo trim. They were wedding gifts my parents received in early 40's...
One still had price tag from Joske's of Texas in San Antonio and was priced $1.98 ... lol. It is large and has two swans with water lillies, and the other is small and is of 2 herrons or egrets on limb of tree. Third is large with 4 herons or egrets near waters edge.
[divider style="hr-dotted"]
Turners Cockatiels by: Anonymous
Does anyone know the value of turners painting of the cockatiels.
[divider style="hr-dotted"]
Turner watercolors by: Reema
We have several watercolors by "Turner". Two mirror framed flamingos, one mirror framed cocatoos, one white framed swans, one black panther and swallows in a gold frame with diamond shaped pattern and a flamingo mirror.
We bought these in the mid 70s from antique dealers in Houston. We don't really know anything about them, but we really like them and wonder if there is any information out there.
[divider style="hr-dotted"]
Turner watercolors by: Mreen
I have two Turners,one of herons one of flamingos. A third may be a Turner, of pink flamingos, in the same style as the first two. All are in mirrored frames of different qualities.
[divider style="hr-dotted"]
Turner watercolor painting by: carmina
i have a turner painting (with glass intact) also I bought it in Connecticut from some old man who was selling alot of antiques. It's almost art decoish. So what about him, what is his first name
[divider style="hr-dotted"]
To Annymous by: Suzanne
I would love to see your pictures. Have you posted them on Antiques Roadshow?
[divider style="hr-dotted"]
Turner by: Anonymous
Hi, I'm just as curious as you are! I own two watercolors by Turner, one of herons and one of swans. They are both in mirrored frames as well. I bought them from a man who bought them in Florida.