Original Boxed Toy Tea Set from Japan
My Mom has a lovely toy tea set from Japan.
by Eden (Los Angeles, ca)
The bottom of the toy tea set is marked with the word JAPAN in red with a red crane design marking over it (see photo).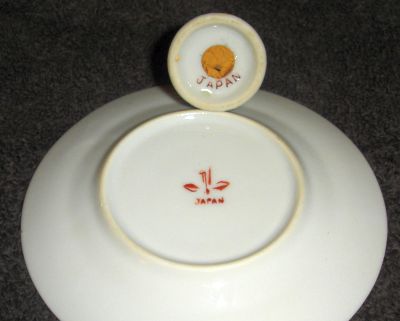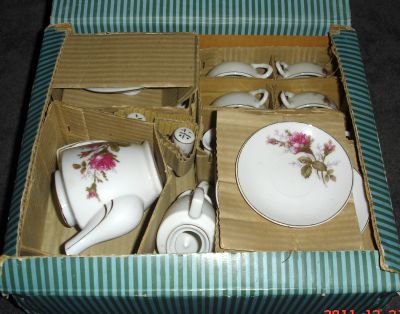 Photos of my Japanese Toy Tea Set. No. 48-4722 & Original Box.
I was wondering if anyone here was familiar with this stamp or would know the manufacturer of it.
We are thinking it is from the 1930's but could not find much information about it online.
Thanks so much and here are the set details … Label reads "Toy Tea Set" made in Japan No. 48-4722
6 dinner plates 4 1/2 inch diameter
5 saucers 3 3/4 inch dia
1 oval plate 7 1/8 in x 4 3/8
round plate w lid 5 3/4 diam approx 2 1/2 tall
5 cups 2 5/8 diam approx 1 1/2 tall
teapot 5 1/2 inches from spout to handle 4 inches tall 2 3/4 inch wide
oval dish w/cover 5 1/2 in handle to handle 3 inches wide approx 3 inches tall
sugar bowl w/lid 3 inches tall 3 1/2 inches long(handle to handle) 2 inches wide
Creamer- 2 3/4 inches long 2 icnhes tal and 1 3/4 inches wide
salt and pepper shakers with cork pugs – 1 1/2 inches tall 1/2 inch across at top and across bottom measures 1 1/4 inches
All help greatly appreciated.
Eden…
Comments on Eden's Japanese Toy Tea Set
Japanese toy tea set by: Lori W
Hi, I have the same toy tea set and have been looking for information on it.
I've not been able to find much on the internet until I came across your post here.
Were you able to find any information on the set that you can share?
Thanks, Lori