Doulton Lambeth Stoneware
Great Deals on Rare & Collectable Doulton Lambeth Stoneware Including antique Doulton stoneware vases and other pieces by Hannah Barlow, George Tinworth, Florence Barlow, Eliza Simmance and many other Royal Doulton artists. Lambeth stoneware designs are quite diverse and pieces are always marked. The Doulton marks almost always include the words 'Doulton Lambeth' with pieces usually signed or including the artists monogram. Royal Doulton Stoneware probably epitomises the art and ...
Continue Reading
0

The Antiques Collection: Royal Doulton Saltglaze Tyg
The Antique Marks Collection contains a very good Royal Doulton Saltglaze Tyg of good proportion and having three foxhound handles. Signed Ada Dennis and dating to c1858
Continue Reading
0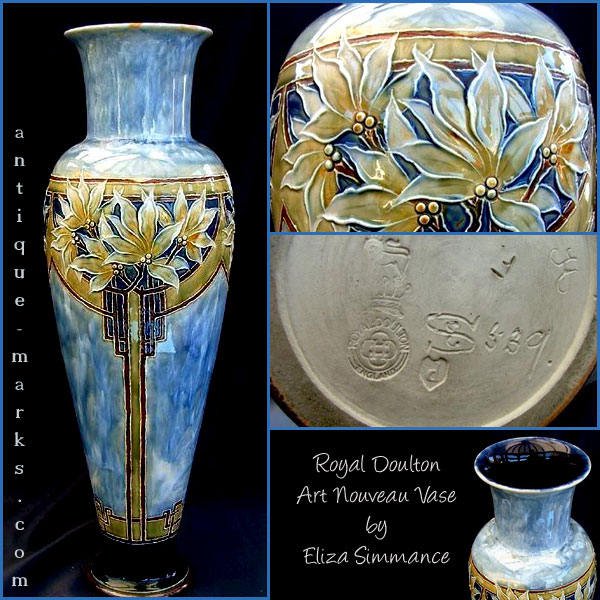 Doulton Marks
Royal Doulton Marks, base marks, pattern codes and trade marks. The Doulton marks are many and varied but most follow the same theme. Dating Royal Doulton products from their Doulton marks means you sometimes have to check very carefully. Factors other than the Doulton mark can help in more accurate dating, particularly pattern names and numbers and date codes or artists monograms. Between 1878 and 1882, Henry and James Doulton acquired a major interest in the Pinder Bourne factory in ...
Continue Reading
Doulton Antiques
Rare & Collectable Royal Doulton Antiques for Sale Superb Royal Doulton Antiques for sale including Doulton figures, vases and highly collectable stoneware, cabinet plates and Bunnykins figures. Some of the most popular and sought after antique pottery, porcelain and stoneware in collecting circles, all available in the Doulton Antiques Shop. Always remember to check your Royal Doulton History and Doulton marks in our Doulton section. Choose Your Doulton Antiques Shop Category ...
Continue Reading
Florence Barlow
Royal Doultons Florence Barlow is one of Doultons most popular and most collectable artists. Florence was born in 1856 at Hadlam, Hertfordshire, England. Florence Barlow was employed at the Doulton Lambeth Art Studio from 1873, producing her renowned bird, animal and floral studies for nearly forty years. Florence and her sister Hannah worked together and the two women were prominent in the field of decorative arts long before Clarice Cliff and Susie Cooper. Yet they are only now being ...
Continue Reading
George Tinworth
Royal Doultons George Tinworth was their most important designer of decorative vases, jugs and humorous figures and animals. George Tinworth (1843 - 1913), was born in Walworth in 1843 the son of a wheelwright. George was supposed to work with his father but he liked to spend his time carving bits of wood. George Tinworth's talent as a modeller and potter were recognised by J. C. L. Sparkes, the headmaster at Lambeth School of Art, where Tinworth, having pawned his overcoat to pay for his ...
Continue Reading
Harry Simeon
Harry Simeon (1896 to 1936) one of Royal Doulton's most versatile potters. Harry Simeon, was one of Doultons most versatile and talented artists and many Doulton collectors are impressed by the diversity of his designs. As a young man Harry Simeon worked with his father as a monumental mason. He studied modeling and sculpture at the Huddersfield School of Art where he won a scholarship to the Royal College of Art in London. After his studies were complete, Harry joined Doultons Lambeth ...
Continue Reading
Doultons Hannah Barlow
Hannah Barlow is one of Royal Doultons most popular and most collectable artists. Hannah Barlow was one of two Barlow Sisters employed at Doultons London factory. An expert tube liner, Hannah Barlow's pieces are amomg the most sought after of all Doulton artist designs. Hannah produced her renowned animal designs and her sister Florence produced floral studies for nearly forty years. The two women were prominent in the field of decorative arts long before Clarice Cliff or Susie Cooper, ...
Continue Reading
Is this a Doulton Lambeth Jardiniere by Hannah Barlow
I purchased this large Doulton Lambeth jardinaire at a boot fair over 20 years ago by Judy Durber (Biggin Hill, Kent, UK) Is it a Doulton Lambeth Jardinaire by Hannah Barlow? I haven't really payed any attention to the jardiniere and it has sat on the shelf in the spare bedroom since I bought it. I paid £20.00 for it when i purchased it and the stall holder told me at the time that it was a Doulton Lambeth piece and was decorated by Hannah Barlow. I would really like to know if this is ...
Continue Reading