0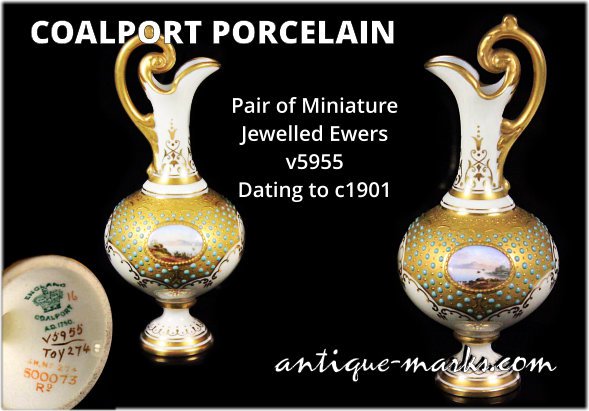 Coalport Porcelain & Dating Coalport Marks
The Coalport porcelain manufactory was a market leading pottery throughout the 1800s, it produced a staggering range of porcelain products of all shapes and types. Seemingly Coalport was named Coalport because of the coal that was transferred from canal boats to river vessels in the Coalbrook Dale area. The Coalport pottery utilised a great variety of Coalport marks over its lengthy existence as well as early Coalbrook Dale marks and mock Sevres & Chelsea marks. Very early ...
Continue Reading
Antiques Roadshow (2)
Your Antiques RoadShow ... Page (2) More antiques and collectibles submitted by antique collectors seeking information or help with antique attributions. Including Georgian glass, Capodimonte porcelain, Wedgwood candlesticks and native American pottery. All sitting comfortably alongside an antique owl jug, blue & white figurines and Chinese vases. The headings and descriptions in the antiques roadshow are those of the owner, and they may be right or they might be ...
Continue Reading
Royal Worcester Stinton
The Royal Worcester Stinton story and details for John Stinton jnr, James Stinton and Harry Stinton. The Worcester Stinton dynasty is renowned for their famous Highland Cattle and Gamebird scenes. They are probably the best known of all Royal Worcester artists, with members of the family painting at the various Worcester factories for almost one hundred and sixty years. The best known of these would undoubtedly be Harry Stinton, his father John Stinton junior and his uncle James Stinton, ...
Continue Reading
Royal Worcester Artists
Information on the foremost Royal Worcester Artists; everyone from Charles Baldwyn to Hadley, Sebright and Doughty. Over the years Royal Worcester and all of its many incarnations have employed or been associated with some of the best and most innovate ceramics artists. The artists detailed below are currently a very small selection of these but we hope to grow this list extensively over the years. Although Worcester porcelain takes a great many skilled hands to manufacture, from around ...
Continue Reading
Moorcroft Artists
The Original Moorcroft Artists and Designers including William & Walter Moorcroft Other Moorcroft Studio artists include Philip Gibson, Rachel Bishop, Emma Bossons, Nicola Slaney and Sian Leeper. Today, the Moorcroft artists and Studio designers are young and the Moorcroft workforce has an average age of less than 27. There are degrees and master's degrees scattered among them, but a degree is not the only true mark of success. Only at the end of a long road, when the Moorcr...
Continue Reading
Antique Terms (M)
The Antique Marks Glossary covering Antique Terms (M) Here you will find antique terms and related words beginning with the letter 'M' including definitions and short histories covering everything from MacIntyre to the Martin Brothers, Moorcroft, Minton and Musket. Listed alphabetically, so simply scroll through or use the search function to find the word or term you are looking for. macheleid, georg heinrich (ceramics - porcelain re-invention - thuringian) Georg Heinrich Macheleid ...
Continue Reading
Coin Collecting Terms
A Glossary of Coin Collecting Terms and their Meanings ... Collecting Coins, like any passion hobby or interest has built up a set of coin collecting terms. A language all of its own. Words and phrases used by coin collectors, numismatic practitioners and students of numismatics. These basic numismatic terms, which are likely to cause the most difficulty for both the novice and the advanced coin collector, are included in this coin collecting glossary. Our Index of Coin Collecting Terms and ...
Continue Reading
Bow Porcelain
A little about the Bow Porcelain Company, the factory history and founder Thomas Frye. The Bow Porcelain Company was set up in East London to emulate Chinese porcelain and it did it so well that the factory was built according to an East India Company chinese prototype and was called New Canton. Wedgwood, Meissen and Worcester are all famous names in the world of ceramics But 250 years ago it was Bow porcelain that attracted worldwide attention, thanks to a young Irish painter who settled ...
Continue Reading
0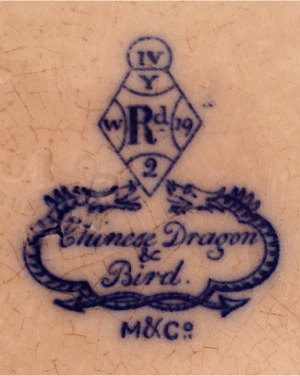 Antique Minton Marks
Dating Minton Porcelain and Pottery using antique Minton Marks Minton from 1796 and during its nearly two hundred year history, has been a very important Stoke firm that has traded under various styles. After Herbert Mintons death in 1858 the Minton name continued as the Company name but no Minton family member has been connected with the firm since. Minton Porcelain Mark Styles Over the company's 200 year history the names associated with the Minton marks on porcelain and china ...
Continue Reading
Antique Minton China
Collecting Antique Minton China and the history of the 200 year old Minton Company. Thomas Minton founded his factory in 1793 in Stoke-upon-Trent, England. He was famous for Minton ware, a cream-coloured and blue-printed earthenware as well as majolica, Minton bone china and Parian porcelain. Throughout its history Minton has often led the way in adapting fashions to the field of ceramics, resulting in a huge range of styles. Minton was just behind Spode with its production of Minton ...
Continue Reading