Gustav Stickley Furniture and The Arts and Crafts
Gustav Stickley
Gustav Stickley was born to a poor Midwestern family in 1858 and had his first formal training in furniture while working in an uncle's chair factory in the mid-1870s. It was from these humble beginnings that Stickley grew to eventually become regarded as one of the most important figures in the development of new approaches to American furniture design. Along with brothers Charles and Albert, Gustav Stickley formed Stickley Brothers & Company in 1883.
Although it dissolved within a decade, Gustav eventually formed the Gustave Stickley Company (later the Gustav Stickley Company) and by 1900 was producing what would become some of the first American Arts & Crafts style furniture. This experimental line was dubbed "New Furniture" and came to epitomize the movement in the United States. To this day, Stickley furniture remains immensely popular and many of his designs continue to be produced to this day.
Stickley Furniture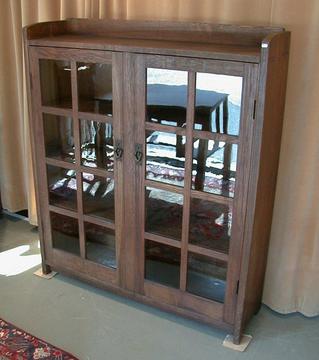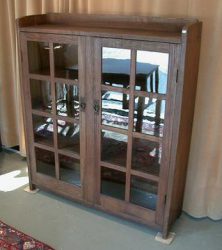 Stickley furniture designs are instantly recognizable by their simple and rectilinear qualities. Some liken the style to a "synthesis of American Shaker with combinations of Japanese and the medieval", while others connect it to Spanish colonial tradition or as a spin-off of the British Arts and Crafts Movement.
While connections can certainly be seen between Morris and Stickley furniture, the true design elements in Stickley furniture remain exactly that- uniquely Stickley. Gustav Stickley's New Furniture immediately took off as the first popular "modern" furniture to be produced in the United States; overnight it became the epicenter of American furnishing style.
In 1903 the company name was changed again, this time to Craftsman Workshops, and entered its most successful phase. Gustav Stickley's furniture emphasized many of the same tenets as Morris & Co. in Britain, in that designs were well-crafted by skilled artisans, and that company management took a direct role in the manufacturing process.
Stickley furniture also evoked an air of nostalgia for a lost era of handicraft; one which had been replaced by mass production. In general, the New Furniture produced by Craftsman emphasized simplicity, honesty in construction, and truth to quality materials.
However, the success of Craftsman Workshops was quickly copied and replicated by others. By 1912 there were at least half a dozen firms producing and marketing similar furniture, including Gustav Stickley's brothers Leopold and Julius George who produced under the name L. and J.G. Stickley. As such, there was a wide disparity in the price and quality of Arts and Crafts style furniture available to the market, permeating to nearly every economic stratum of the country.
Stickley's Morris Chair
Around 1904, Craftsman Workshops produced Stickley's version of the Morris Chair, arguably the most iconic of American Arts and Crafts furniture designs. In many ways, the chair imitated that produced by Morris & Co. thirty-five years earlier but remains quintessentially Stickley. Mortise and tenon construction, oak composition, and a slick, simple design are classic hallmarks of Craftsman Workshops' products at the time.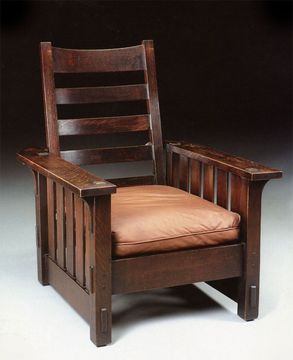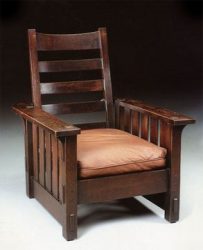 Through the 1900s and early teens, Craftsman Workshops continued to expand and develop. In 1913, Gustav Stickley's continued success saw the business relocate to a 12-floor factory to meet production quotas. However, the success was to be short-lived. Seemingly overnight, the demand for Arts and Crafts style furniture plummeted, and rising production costs pushed Craftsman Workshops to bankruptcy.
By 1915, the company ceased to exist, and although Gustav Stickley continued to produce small amounts of furniture into the 1920s, he would never again reach the same level of commercial success. Little other information is available about Gustav Stickley's later life, except that he died largely forgotten in 1942.
The Stickley Legacy
In recent years, the Stickley and his work have reappeared within the public conscience. In particular, pieces produced between 1900 and 1904 (formative examples of American Arts and Crafts furniture) are considered rare and extremely collectible. An original early Stickley reclining armchair can cost upwards of $5000, although examples produced by other firms cost less. More desirable larger furniture such as bookcases can bring $10,000 or more.
However, pieces with particular provenance become prohibitively expensive for all but the wealthiest collectors. For example, in 1988 Barbra Streisand paid $363,000 for a Stickley sideboard from the Gustav Stickley House in Syracuse, New York.
Although he was forgotten for decades, Stickley's furniture is once again at the forefront of collector demand. Similar products from numerous other manufacturers, both contemporary and more modern, continue to flood the market- but none bring the same high figures as the pieces produced by the one and only Gustav Stickley.
Origins of the Arts and Crafts Movement
The Arts and Crafts movement was a global movement in the decorative and fine arts, which first began in the United Kingdom but eventually spread throughout Europe, North America, and Asia. In stark contrast to the ornate and complex Victorian forms, Arts and Crafts stood for traditional craftsmanship using simple forms; and often used medieval, romantic, or folk styles of decoration.
As a whole, the Arts and Crafts movement advocated economic and social reform and was essentially anti-industrial. The Arts and Crafts movement arrived the height of Britain's industrial revolution, spurred on by a perceived decline in production quality standards as a direct result of industrialization and mass production.
As the Arts and Crafts movement emerged in Europe through the late 19th century, supporters and activists developed the idea that factory management should be personally involved not only in design but also in the manufacture of their products. It was this hallmark of personal involvement in production, which was to form the backbone of the Arts and Crafts movement.
William Morris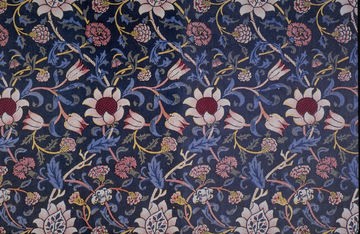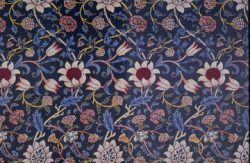 William Morris was a major contributor to the Arts and Crafts movement in the UK, whose ideas would eventually spread to North America and around the world. Among other things, Morris is today known for his socialist activism and for co-founding Morris & Co., the furniture and decorative arts manufacturer and retailer which typified the early Arts and Crafts movement.
Although Morris & Co. is traditionally regarded for the Medieval-inspired textiles and wallpaper designs produced between 1875 and 1900, the manufacturer also produced several enduring furniture designs.
The "Morris chair"
Although adjustable-back armchairs had been produced in Britain for almost 200 years by the time Morris & Co. produced the first Morris chair, it was this version that became enduringly popular and in many respects typifies the early reclining chair.
First manufactured around 1869, the Morris chair was an immediate success; hundreds of thousands of examples were produced by various firms between 1890 and 1930. In fact, the Morris design was such a success that it directly influenced the American Arts and Crafts movement, and spurred Gustav Stickley to design his own version of the Morris chair for the American market.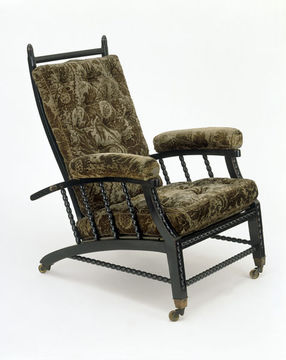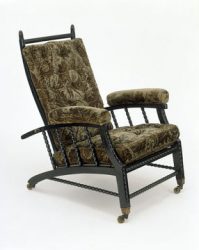 Although William Morris intended for the Arts & Crafts movement to represent a shift away from mass production and towards individual craftsmanship, his work quickly became fashionable and popular with the middle and upper classes.
By the end of the 19th century, Arts and Crafts design in architecture and domestic interiors became the dominant style in Britain; to keep up with demand, Morris & Co. designs were quickly copied by competing firms, and mass-produced in factories using conventional industrial methods.
The American Arts and Crafts Movement
By 1890, William Morris' social reform movement had spread to the United States. Across the Atlantic, the American Arts and Crafts movement continued to share the reform philosophy advocated by its European counterpart. Early manufacturers promoted and encouraged originality, simplicity of form, use of local natural materials, and the visibility of handicraft.
In many ways, the modern trend towards locally-sourced and manufactured goods echoes the tenets of the Arts and Crafts movement from over a century ago! Though the American Arts and Crafts movement spawned directly from the European movement, it did distinguish itself in one main factor.
While the British Arts and Crafts movement became popular with well-to-to middle and upper class households, the American movement produced the Craftsman bungalow- with the goal of providing modest homes for a rapidly expanding American lower-middle class.
Another difference is the use of oak, which typifies American Arts and Crafts furniture produced by the Gustav Stickley firm among many others. Though British furniture through this period was constructed from mahogany, the abundance of oak in eastern North America made it an ideal locally-sourced product for American Arts and Crafts manufacturers.