Found in Michigan a lovely vintage stained glass window.
by Cathy (St. Charles, MO, USA)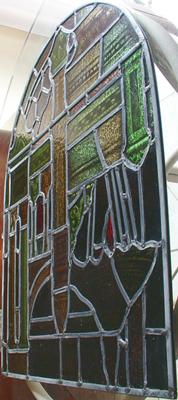 The photo shows the actual stained glass window from the old church
I purchased this stained glass window from someone who had been called to an old church that was going to be worked on and asked if she wanted to buy the window.
She said yes, bought it and then sold it to me 6 months later.
I thought I'd share it with the antiques community here.
It's particularly lovely when the light is behind it.
Just have to decide what to do with it. I'd hate to let it go to waste or worse be junked.
Thanks for letting me share,
Cathy
Comments on cathy's Stained Glass Window
Stained Glass at Sainte Chapelle by: Danni
Some of my favourite antiques include the medieval stained glass panels from Sainte Chapelle on display at the Musee de Cluny in Paris.
I'd love to see this stained glass panel with the light behind it.
Original Stained Glass by: Pat
Who could the artist be? Is it signed?
Looks like a treasure more for a museum than a stained glass sky light.
Dimensions by: Cathy
Sky Light: An Interesting Idea!
Here are the Dimensions of the Stained Glass Window: 31"H x 27"W x ¼"D
Wow that is a fine work. by: Christine G
I wonder how big it is. Stained glass would make a brilliant sky light.