Could somebody please help me find out how old these soft paste porcelain Blue and White Tea Cups are?
by Kym (London, UK)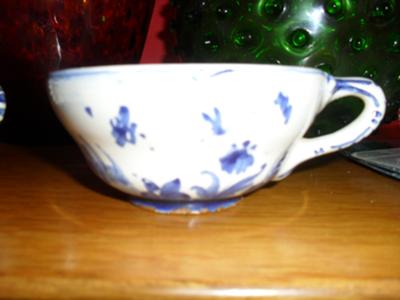 Photo is of my Soft Paste Porcelain Blue and White Tea Cups
I have researched and researched and cannot find any marks that are the same as the marks on these blue and white tea cups.
I am now beginning to think they may be quite rare, please help.
The blue and white tea cups are very short but wide. Very delicate and hand painted.
I believe they are hand painted soft paste porcelain.
The makers mark on the bottom is like the large sail of a boat with the numbers 2346.
I would be thankful for any help or information anyone can offer.
Kym.
Comments on Kym's Blue & White tea cups
Not enough Information by: Charles
Kym, you would need to add a few more photos of your blue & white tea cups, before anyone could reliably identify them.
Even the photo you have added is of very poor quality and provides insufficient detail to identify the pattern.
Blue & White porcelain usually has underglaze decoration, which is done using a blue pigment called cobalt oxide.
There are a lot of B&W porcelain pieces out there and it takes a keen eye for detail to recognise & identify the maker, before you can determine age and value.
Add some more detailed photos and I'll have a go.
Charles