A quick look at a few good examples of Sevres porcelain in our Sevres Porcelain Gallery.
The Wallace Collection holds the finest museum collection of Antique Sevres Porcelain in the world.
The other great Sevres' porcelain collections are housed at ...
1. The Royal Collection at Buckingham Palace and Windsor Castle
2. The Rothschild Collection at Waddeson Manor
Both collections were mostly put together in the nineteenth century.
Largely as a result of the French Revolution when so many great works of art came on the market. Saving them for future generations became a high priority for those that appreciate fine art and beauty.
Quality Examples of Sevres Porcelain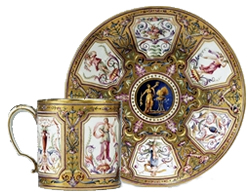 Sevres Porcelain Cup and saucer (Hard Paste Porcelain)
GOBELET LITRON ET SOUCOUPE
Painted with Raphaelesque panels of female figures, urns and baskets of flowers in canted cartouches on a gold ground reserved with arabesques of scrolling foliage and cornucopiae issuing flowers.
Sevres Marks: c1787 Gilt Crowned Interlaced 'L' Marks enclosing date letter KK to cup. Painters Mark j.w.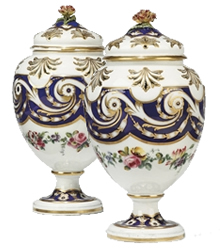 Pair of Sevres Porcelain Pot Pourri Vases & Covers
Moulded with a castillated band reserved with white and gilt rosettes, scrolling foliage and husk ornament on a bleu Fallot ground .
Each cover and foot with matching pattern
The shoulder and domed cover pierced with acanthus panels.
Finials formed as carnations
Sevres Marks: c1768, Blue Interlace 'L' Marks enclosing date letter 'P'. Painters Mark '6' for Bertrand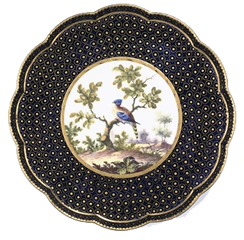 Sevres Porcelain Lobed Stand.
Dark blue ground painted with an exotic bird perched on a branch in a wooded landscape within a gilt roundel.
The bleu lapis ground gilt with an oeil-de-perdrix pattern within shaped gilt-dentil rim
Sevres Marks : 1769, Blue Interlaced 'L' Mark enclosing Date Letter 'Q'
Painters mark 'IN' for Aloncle.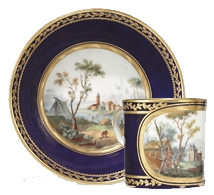 A Sevres Porcelain Cup and Saucer
Dark Blue Ground Painted with vignettes of figures in river landscapes
Within gilt cartouches on a bleu nouveau ground.
Gily borders with bands of berried laurel leaves between gilt line and beaded ornament.
Sevres Marks: Blue Interlaced 'L' Marks for 1769-70. With Date Letter 'Q'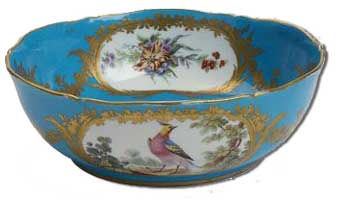 An 18th century Sevres bowl, date mark for 1773
Of circular scalloped form, with bleu royale ground, the interior with three oval panels framed and enjoined by gilt scrolling foliage, and painted with summer flowers on a white ground.
The exterior with similar panels painted with exotic birds within a landscape setting.
Sevres Marks: Underglaze brown mark, with date code 'u' for 1773 and with initials 'L.G.' for the decorator Le Grand and V.D.
Provenance: The property of Lord Biddulph
Tip! Always buy the best pieces of Sevres Porcelain you can afford. Try to make sure they are as near perfect as possible and you will never regret your investment.