My Scot Foxwell vase is very light in weight. It has three forks for legs. The forks are curved.
by Lisa (Canada)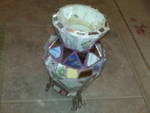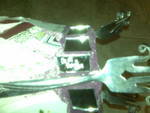 Included photos show the Scot Foxwell Vase and the Signature Mark - Scot Foxwell 1534
It looks like the vase is a collage of broken pieces of china cups or plates with all kinds of different patterns with little pieces of mirrored glass used throughout as decoration.
Close to the bottom of the vase on one of the decorative glass pieces, there is a signature (Scot Foxwell or Faxwell), a little hard to pick out last name.
Then there is a number or a date 1534. It is this signature that made me curious. Is the Scot Foxwell vase an antique.
I haven't had the vase very long, only a few months and recently as I was dusting, I discovered the Scott foxwell signature with the number or date and as I said, it made me curious.
I know very little about antiques or the history of this vase.
I was visiting a friend one day and admired the vase for it's unique beauty.
My friend said she was helping her friend clean out an old house and her friend gave her the vase and a blender or something like that I can't actually recall the details or who her friend was etc.
All I know is she said she could use the blender but since I liked the Scot Foxwell vase offered it to me. I graciously accepted it.
I think the vase is unique and quite beautiful.
Lisa ...
Comments on Lisa's Scot Foxwell Vase
A Scott Foxwell clock by: Mary Ann
I have a mosaic clock made from fragments of china and glass beads; quite pretty. Also signed Scott Foxwell with a number: 1809.
It was given to me as a gift about 20 years ago and was likely purchased in Tiverton, RI. Clearly not old.
I also have a Scott Foxwell by: Will B
Scott Foxwell I was told is an artist out of California. I have a small object made my Scott Foxwell as well and I bought it on Manitoulin Island in Ontario Canada at an artist tour.
I saw pictures at that time where the cast from CHEERS had bought his art.
Just letting you know he is an upcoming artist.
In response to comment on vase... by: Lisa
Unfortunately I have not received any responses and I have not had any luck in finding out any information on the vase.
My instincts tell me that it probably isn't an antique and considering you have one of your own with spoons for legs, there may be quite a few others out there as well.
But if you find out anything different, please let me know.
Regards Lisa ...
Have you received an answer? by: Jason
I have a similar vase but it has spoons for the legs . It also has the signature. Any info is greatly appreciated.
Thank you, Jason