Royal Worcester Gallery - a brief look at examples of Worcester porcelain.
We've included the Royal Worcester Gallery to give you a brief look at a few examples of good quality Royal Worcester Porcelain.
Quality porcelain from the oldest, continuously operating English porcelain factory still in production today.
The Worcester Gallery includes items from renowned artists like Walter Sedgley, the Stintons, The Doughty sisters and many more.
We will add to it as we can and when we discover more and more interesting items.
Examples of Worcester Porcelain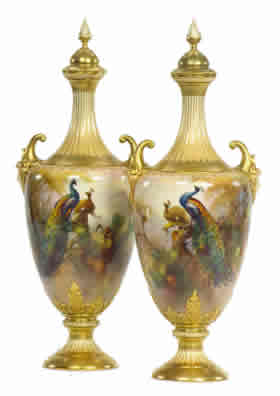 Walter Sedgley c1901
A Pair of Royal Worcester Porcelain Pedestal Vases and Covers, of neo-classical form, the scroll shoulder handles with mask terminals.
Painted with pairs of pheasants perched in fruiting fir trees. Signed.
The domed covers with painted bud finials.
Bearing puce printed crown and wheel mark and year cypher. Shape 1911. Sold at auction for £2400 in 2007.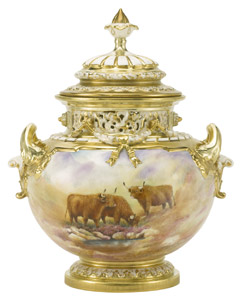 John Stinton c1906
A Highland Cattle Painted Porcelain Pot Pourri Vase and Cover. Of two-handled squat pedestal shape, the fluted and domed cover with bud finial, painted with a vignette of two longhorn cattle in a misty highland glen. The reverse with rocky vignette, with pierced collar and applied with swags, against a blush ivory/peach ground, enriched in gilt throughout.
Signed and with Puce printed crown & wheel mark and date code for c1906.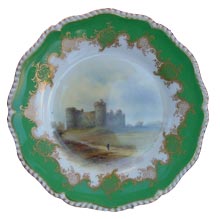 John Stinton c1933
A beautiful royal worcester scallop edged cabinet plate showing a view of carew castle superbly painted by John Stinton c1933.
With gilt feather edged dark green border overlaid with a leaf scrolled filigree band enclosing the central panel view.
Bearing puce printed crown & wheel mark and year cypher, script mark and signature. Sold on ebay auction for £280 in 2006.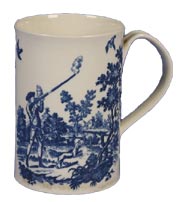 Rare Worcester 1st Period Mug c1780
A rare first period Worcester Blue & White Mug transfer printed with the man-shooting-a-gun pattern
The reverse also with man -holding-a-gun pattern, the cylindrical body with slightly flared rim and moulded side handle
Worcester workmans mark to the base. Sold at auction for £1200 in 2008.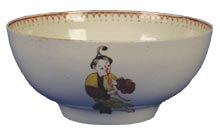 Worcester 1st Period Bowl c1765
A small first period Worcester Polychrome bowl on a pedestal foot.
Decorated with a frieze painted with oriental actors, a vase and a playful puppy
Sold at auction for £140 in 2008.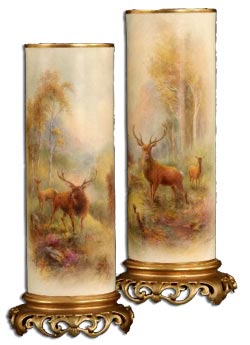 Harry Stinton c1931
A pair of cylindrical Cabinet Vases with pierced gilt feet in the Oriental style.
Beautifully painted with statuesque stags in a woodland setting in the manner of the Monarch of the Glen
Royal Worcester Artist: Harry Stinton. Shape 6/161
Sold at Yorkshire auction house for £24,500 in 2007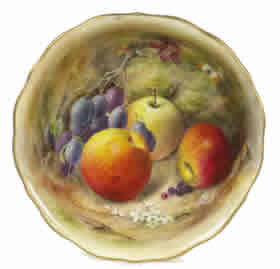 William Ricketts c1922
A Royal Worcester Fruit Painted Porcelain Bowl of waved circular form with everted rim.
Decorated with three apples, damsons, blackberries and apple blossom, against a mossy bank with a moth. Gilt rim and misted gold exterior.
Puce printed crown & wheel mark and year mark. Sold at auction for £850 in 2007.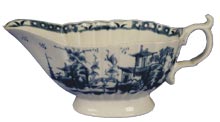 Worcester 1st Period Sauceboat c1765
A first period Worcester Blue and White Sauceboat decorated with the mission church scene pattern.
The scalloped body with spur-capped side handle, on pedestal foot. Bearing crescent "C" mark to base. Sold at auction for £340 in 2008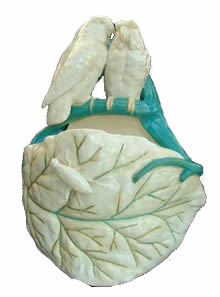 A Rare Pair of Royal Worcester Wall Pockets c1877
A beautiful matched pair of antique Royal Worcester, creamware, wall pockets depicted as two pairs of love birds courting on a branch above a leaf formed pocket. Each leaf with the addition of a single insect crawling on the upper half
Bearing Royal Worcester impressed marks and registration lozenge. Dating circa 1877. Sold on ebay for £250 in 2006.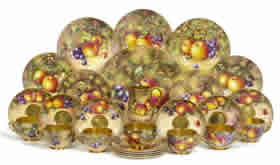 Worcester Fruit Painted Porcelain
A Royal Worcester Porcelain Tea Service, each piece richly painted with a still life of fruit, apples, peaches, cherries, grapes and pears
Signed by various artists including Freeman, V Cook, A Telford and D Bowen and comprising six teacups and saucers, eight small tea plates, three larger tea plates, a bread and butter plate, milk jug and sugar basin.
Black printed crown and wheel marks. Sold at auction in 2007 for £4000.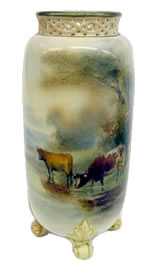 Harry Stinton c1907
A Royal Worcester spill vase dated 1907 and Signed H Stinton
The shouldered ovoid body painted with a study of cattle below a blush tinted pierced collar and resting on four leaf scroll feet.
Bearing Royal Worcester puce crown & wheel mark and date cypher for 1907
Sold at auction for £225 in 2008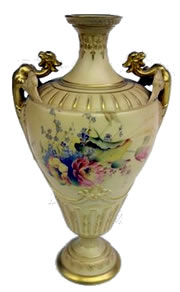 Royal Worcester blush porcelain vase c1895
A Royal Worcester blush porcelain two handle pedestal vase. Printed and painted with meadow flowers within moulded and gilt highlighted borders. With Gryffin handles mounted on the shoulders
Dated 1895. Shape 1674 with Puce Crown & wheel mark and date cypher for 1895.
Sold at auction in 2008 for £105.