This Doulton plate was a wedding gift to my parents who were married in Scotland in 1945.
by Anne (Victoria, BC, Canada)
The plate has Rabbie Burns in the centre and features nine of his peotry characters around the rim as well as the names of several well known Rabbie Burns poems.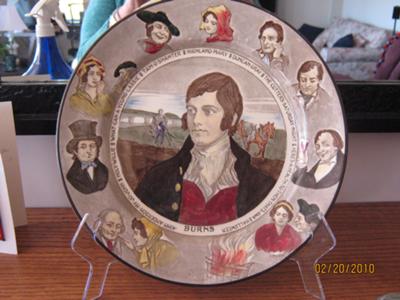 On the back is the Royal Doulton number D4746 and the artist marks which look like 2 small letter l's
If anyone could help me date this Royal Doulton series ware plate, that would be great.
Thanks,
Anne
The photo features my Royal Doulton Rabbie Burns Plate
Comments on Anne's Royal Doulton Series Ware Rabbie Burns Plate :
Robbie Burns plate by: cherril
I have a Royal Doulton Robbie Burns plate. It is blue with the same pattern as Anne's. it has a number on the back which is D339.
Can anyone put a date or value to it please?
It belonged to my parents so I am not wanting to sell it but would just like some info please.
Another Doulton Plate by: barnsey
I have one just like this, the Doulton Symbol puts it between 1901 and 1921.
However I can't identify the artists mark,there is no number but the mark looks like a stylised hook in an oval surround. 3 small circles a bar with wavy line through it and a outlined "G" or hook.
Has anyone an idea what this might represent?
Robbie Burns plate by: Harry
Hi there i also have one of these Doulton plates and mine has a marking on it D6344 on the back of it.
Ccan someone help me and give me an estimate of its worth thanks, its the same one as Anne has got Cheers
Nice Doulton series ware Plate by: Kat
Hi your plate appears to be a piece of Doulton Seriesware.
The D4746 would place the design around 1928.
Check out the Doulton Artists Marks at on the Doulton Artist Marks 'L' page
The artist or designer is possibly Marion Layzell or Harriette E Lee
That's about as much as I can tell you based on your information and without actually seeing the plate.
Kat...