A Set of Four Matching Royal Doulton Burslem Cups dating to c1902.
by Ann Marie Reagle (Hillsborough, NJ USA)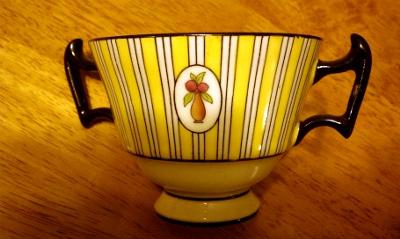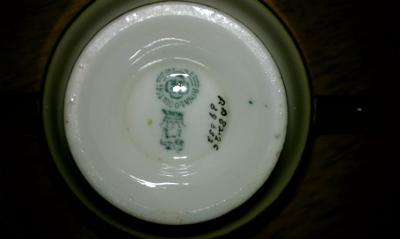 Photos show the pretty pattern on my twin-handled Royal Doulton Burslem cups & the Doulton base marks
I purchased four twin-handled Royal Doulton cups that date to Burslem between 1902 and 1922 according to the Doulton makers stamp on the bottom.
However, I cannot find the pattern anywhere.
The cups are decorated in black, white and yellow stripes with a central panel featuring a vase with fruit on one side.
Could anyone please tell me if they are worth much particularly as they are without the saucers and I do not know the name of the pattern?
Thank you,
Ann Marie.
Comments on Ann Marie's Royal Doulton Burslem Cups
Royal Doulton Burslem Cups by: Ann Marie
I have 4 of the cups but not sure where to look for the saucers. If anyone knows where I can find Doulton saucers, I would appreciate if you could let me know. Thanks! Ann Marie
Doulton Cup Collectors by: Robert
Hi Ann Marie, those are very nice cups and from what I can see of the Doulton marks they appear to have a Robert Allen design code in the RA 82-- range, which would date them to around 1914.
Collectable cups are always quite popular and there are always collectors looking to match odd pieces.
However, they would certainly be more collectable as a set or better still as a trio.
I would try to find matching saucers to your Doulton Burslem cups before selling them, or if you don't want to do that, I would list them individually on ebay.
Providing the condition is A1 they should fetch decent money.