This Red Jean-Louis Godivier Chair was my great aunts until she passed away when she was 91.
by Jan Langton (Monroe, Michigan)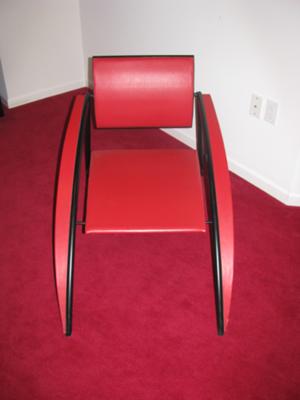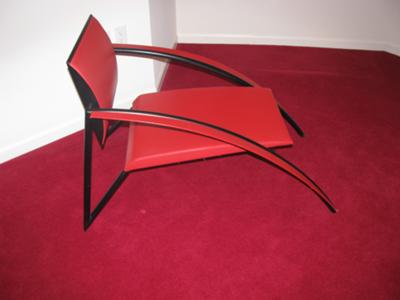 Photos show my Jean-Louis Godivier - D-tec Chair Front and Side View
She had told us it is an original and possibly only a few Godivier D-tec chairs were made.
I'm not sure on the value or any other specific details and would appreciate any help on dating the chair.
And any information on Jean-Louis Godivier and whether the chair is collectable or valuable.
Thanks in advance.
Jan.
Comments on Jan's Godivier Chair
by Kat (antique-marks) :
I believe the design is called 'D-Tec' and it is out of production.
This D-tec chair appears to be a relatively modern design emulating Retro or Art Deco design and was designed by Jean-Louis Godivier, circa 1980.
In a used but very good original condition I believe they can sell for upwards of 2000 euros
I would advise taking the Godivier chair to a good auction house to have it professionally appraised.