Poole Pottery is based in the town of Poole in Dorset.

They produce decorative and ornamental art pottery that has become very collectible.
Poole was set up in 1873 as Carter and Co. and started out by making architectural ceramics incuding tiles and ornamental ceramics used in the building industry.
By the early twentieth century, Poole Pottery began to produce more decorative and ornamental pottery intended for display, and since then they have never looked back.
Poole have become one of the leading factories producing art pottery alongside their tablewares and this has made them a very collectable factory.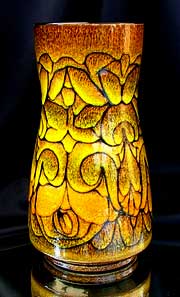 Art pottery manufacturers and designers tend to specialise in different things and in some cases it is novel shapes or surface patterns, in others the emphasis is on glaze effects.
In the case of Poole Pottery, from its early days to the present the main thing that makes their art pottery distinctive is the use of hand painted decoration.
Poole Pottery Glazes and Decoration ...
The earliest pieces of art pottery made by Poole in the period from 1900-1918 had rich lustre glazes with almost a metallic sheen to them.
In the period immediately after the First world War Poole Pottery came under the influence of the artistic ideas of the Bloomsbury group, with Roger Fry and Vanessa Bell (Virginia Woolf's sister) working in collaboration with Poole to produce pottery designs for their own Omega Workshop.
During the 1920s Poole used the influences and styles of mediterranean peasant pottery for their own modern ornamental wares.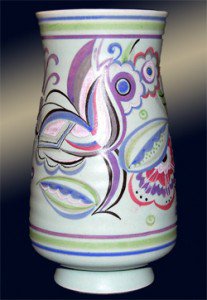 In the 1920's Poole experimented with pottery designs that used floral and animal motifs. These were very popular and became a hall-mark of Poole Pottery - what has become known as their Traditional Wares.
They were in production from the 1920s to the 1960s. They are still very popular today and are highly sought after by collectors.
As well as being influenced by outside artists, Poole Pottery also produced some of their own designers who went on to produce innovative and modern designs.
Truda Carter, Phoebe Stabler, Ruth Pavely and others working for Poole during the early twentieth century produced a range of designs that are now highly collectable.

At the time when the company was trading under the name of 'Carter, Stabler and Adams', the art-deco designs that Poole produced during the 1930s are very collectable.
More subtle in their patterns and colours than Clarice Cliff, Poole's art-deco designs capture the spirit of the jazz-age well.
They adapted their floral and animal designs to a more abstract, angular and geometric style that was all the rage; and these Pole Pottery wares are now highly sought after by Poole Collectors.
Another high point for Poole Pottery came in the 1950s ...

Lucien Myres was appointed director of Poole and after post-war design council restrictions were lifted in 1954, Poole sought to return to its art-pottery roots.
They began to develop a new and modern look in ceramics and Alfred Read was hired as chief designer. He produced a range of freeform designs that were modern, organic and simple in style and which have come to typify 1950's design.
Poole Freeform was a new, more modern style, developed after WW2. Poole Freeform patterns were applied to a wide range of shapes, many of which were designed by Alfred Read and Guy Sydenham, two of Poole Pottery's most creative talents
Poole set up a semi-independent studio within the factory in 1958 to produce studio pottery.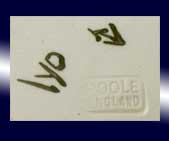 Headed by Robert Jefferson and with Tony Morris as a key designer.
From 1962 they produced a range of studio pottery that later became a model for the well-known, brightly coloured Delphis range of the 1960s and 1970s.
Poole also produced two other noted art pottery ranges in the 1970s: Atlantis and Aegean as well as some limited edition stoneware animal figures.
After falling into the design doldrums during the 1980s and early 1990s, Poole decided to return to its art-pottery influences in the late 1990s
It re-established the studio and began producing new ranges and also hired a number of independent artists and designers to produce one-off and limited edition designs for Poole (e.g Sally Tuffin, Janice Tchalenko, Tony Morris (again), Sir Terry Frost, Alan White etc).
Poole is now back where it belongs, not only producing a wide range of useful tablewares but continuing to be at the cutting edge of art-pottery design in Britain.
Wares from all periods of Poole's history are highly collectable with prices ranging from a few pounds to several thousand.
Poole Pottery marks appear on all but the very earliest pieces. The most common mark being the Dolphin mark.
The Carter Stabler Adams mark shown above is the earliest form of Poole pottery mark.
The most affordable Poole is the tableware from any period.
Made in large volumes it is very common and generally very cheap to buy.
Indeed, in addition to new, still-in-production decorative items, most of the Poole items that you will see for sale on eBay and in auction houses are tablewares of little value.
Good if you want a cheap and stylish set of retro crockery for everyday use.
The best and most collectable tablewares are probably the contemporary designs of the 1950s. Including patterns like: Ripple, Ariadne, Constellation and Feather Drift.
Modern Poole Pottery Marks & Artist Monograms ...
Today, Poole Pottery continues to produce striking vibrant designs like African Sky, Bamboo, Columbine, Decadence, Flamboyance, Gemstone, Himalayan Poppy, Imagination, Indulgence White, Infusion and Volcano.
All produced by a talented team of artists and designers who have their own individual marks, namely ...



Andrew Tanner

 Victoria Higginbotham


Sylvia Whitehead


Janice Tchalencko


Nicola Massarella


Jackie Moulton


Alan White


Tina Sherratt
Poole Pottery can be an acquired taste. The abstract designs do not appeal to everyone, but dedicated Poole collectors really appreciate them.
FAQ
What is Poole's most famous piece?
The piece was made by Truda Carter, and was deemed remarkable because of its use of floral patterns and the colors that were used were extravagant. Piece was the result of World War II and its influences can be revealed if you look at the contemporary art's revolution at these times.
Indicative of post modernism and a parallel of the other works done at the time. While others painted about realities other than the depressing one they lived in, Truda Carter attempted a simplistic take on this idea.
Where Can I Buy Poole Pottery?
You can buy some pieces online, their designs have taken on a more modern form then their predecessors; however, now with their pieces online they ship out of the U.K. Where all of the pottery is made in Middleton.
What is the average cost of a Poole Pottery?
Depending on the rarity of the piece and whether or not it had been commercially produced, can affect their price. They can go from a couple pounds to even a couple thousand, depending purely on how rare and unique the piece is. The symbols can be found in even some of the earliest pieces. The most common being the dolphin.
What is Poole Pottery made of?
English White Earthenware clay. Each piece is made, glazed, and fired by hand at a whopping one thousand degrees. The signature is lacquered with color on the base of the pottery. Sometimes they will even use a pattern outline to draw onto it like a guide.
What Are Some Of The Major Historical Moments?
In 1963, "Delphis" was launched and conceived by Guy Sydenham and Robert Jefferson who used this time frame to make unique pieces.
In 1970, "Aegean" was introduced, and it was the utilization of spray-on glazing and innovation of various techniques. While "Delphis" was predominately made of contemporary pieces "Aegean" was the arrival of simplistic patterns, such as leaves, boats, and fish. Sadly it was unsuccessful.
The current frame Poole Pottery is in would be called, "Living Glaze'' this involves a different application of glazes that interact with each piece uniquely giving even unique designes.
Is Poole Pottery hard to maintain?
No, Poole Pottery was branded as being dishwasher safe and one of the patterns used in the creations of some of the pieces makes it easier for it to use in the washer. Their brand also extended to their ability to be microwaved. This was one of the main contributors to its success.
Like most pottery it can be prone to crazing/crackling, where the body of the pot begins to cool after the firing. The glaze can sometimes be unable to sustain the tension that happens when it goes through crazing. Sometimes there can be a loud noise that will occasionally ring out over the lifetime of the pottery.
What Are Some of The Techniques Used in Poole Pottery?
Poole Pottery uses a variety of different techniques but some of the more prominent ones are the use of Pinching, coiling, molding, wheel throwing, RAM pressing, and slip Casting.
Pinching is used in simple form hand-made pottery. Its creation stems from ancient times, and can be used for both ornamental and functional purposes. It's when the pottery-maker puts the clay in between his fingers and pushes them together sometimes this can make a unique crease that goes along the pottery.
Coiling is a method that turns clay into vessels, this is predominately used in vases and different assortments. With this technique they can make thicker or taller walls, in terms of versatility its one of the more utilized techniques.
Molding is the process of using a liquid or pliable raw material that will become the frame called a mold. Then they use these molds to form the pottery and let it sit and caste into the desired shape.
Wheel throwing utilizes a machine that spins a clump of clay that can be manipulated by the potterer.
RAM pressing is a technique that predominantly involves a large machine that molds the clay into molded shapes.
Slip Casting is a process that involves casting liquid body into a plaster mold and allowing layers to form on every surface, and letting it settle. This usually takes at least 24 hours.
What Are Some Of The Processes used?
Poole Pottery uses a variety of processes in order to get their pottery, but some of the most important include: Burnishing, glazing, kiln, and firing.
Burnishing is a form of treatment where the pieces are exposed to polish and become extremely shiny after the firing of the pieces.
Glazing is the process of using an impervious layer of a vitreous substance, which will fuse to the body of the pieces. It can be used to decorate, color, and waterproof an item.
While using a Kiln is almost always required, the actual Kiln is a large insulated chamber, a kind of oven, and produces enough heat in order to properly set the clay. There are multiple kinds of kilns but some of the most common would be electric or gas; however, with older kilns they are normally powered by wood or coal. This can even affect how the pieces come out.
Firing a piece is the actual setting of the clay. The process of firing involves heating an oven up to the right temperature, which can be as hot at one thousand degrees; however, this is one of the most vital times and if done incorrectly can be detrimental to the entire piece. If the Kiln is too hot or too cold it can cause there to be large mistakes on the surface of the pottery.
How does Poole Pottery differ from Other Pottery?
Poole Pottery is unique in the culture they've been in correlation with their pottery. When you join Poole Pottery, you're also indulging in the rich history that can come with some pieces. While in other generic brands you're only buying the pottery, while there is something almost familiar to Poole Pottery.