A look at the Italian renaissance medal called 'Innocence and Unicorn in Moonlit Landscape'.
An Italiian Renaissance Medal by Antonio de Pucci, usually called Pisanello (c1394-1455) and depicting Cecilia Gonzaga (1426-1451).
Obverse ... half length bust of the sitter facing left, her hair tightly bound with a ribbon. Wearing an embroidered gown and pleated skirt. Inscribed: CICILIA VIRGO FILIA IOHANNIS FRANCISCI PRIMI MARCHIONIS MANTVE
Reverse ... A rocky landscape below a crescent moon with a semi-nude young woman resting her hand on the head of the unicorn lying beside her.
To the right a stele, with a floral ornament fixed to its top, bearing the inscription, 'OPVS PISANI PICTORIS M CCCC XLVII' ?meaning the work of Pisanello the painter 1447.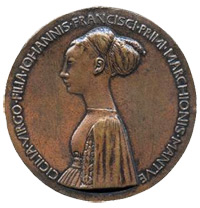 An extremely fine original cast of the highest quality, a masterpiece of renaissance medallic art.
2010 Auction Estimate for the Pisanello Innocence and Unicorn Italian Renaissance Medal ... £60,000 to £80,000 GBP
Antonio de Pucci, called Pisanello (c1394-1455).
He was known professionally as Antonio di Puccio Pisano or Antonio di Puccio da Cereto and Pisanello was already a famous artist renowned for frescoes, murals, small easel paintings and portraits, before he turned his attention to metal and became the father of Italian medallic art.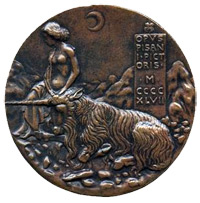 Along with his painted work, extant examples of preparatory sketches for his medals survive in the Louvre and reflect his skill as a draftsman in addition to his clarity of observation.
During his lifetime Pisanello was best known for his medals and he was copied many times in later generations.
Before Pisanello, medals were struck like minted coins, but Pisanello, melted his medals in the same way as a bronze in low-relief, clearly showing the work of a painter and a modeller.
He even signed his medals 'Opus Pisani pictoris' meaning 'made by the painter Pisano'.
In Pisanello's view the portraits in his medals were equal to the portraits in his paintings and he adds allegories at the reverse of his medals, such as the unicorn in the Cecilia Gonzaga medal, underlying the noble character of the princess.
To this day Pisanello is recognized as one of the most important artists of the early Italian Renaissance.
A little about Cecilia Gonzaga ...
Cecilia Gonzaga is depicted on the Pisanello Innocence and Unicorn medal and she was celebrated as a scholar despite her few years.
Wishing to pursue her studies rather than marry she elected to join a convent but this met with opposition from her father who had arranged for her to marry Oddantonio da Montefeltro of Urbino.
Oddantonio reportedly financed his debauched and excessive lifestyle by imposing heavy taxes and was commonly despised. Cecilia wrote to her fianc? to tell him that she would never marry either him or any other because she wanted to take the veil. She refused to marry him and he was ultimately assassinated.
Her father Gianfrancesco, swore he would never allow her to take the veil, but Cecilia said nothing, simply waiting in silence for years, and refusing the other men her father proposed to her.
As soon as her father died, in 1444, she took the veil in the town convent of Corpus Domini, which was founded by her mother Paola Malatesta. Her mother followed her and spent her widowed years as a nun.
The meaning in this Pisanello Innocence and Unicorn, Italian Renaissance Medal is clearly stated through its portrayal of the innocence and chastity of the sitter, Cecilia Gonzaga, and the representation of the unicorn as a goat, alluding to the sitters acquisition of knowledge.
The composition of the Pisanello Innocence and Unicorn medal, the simplicity of the obverse and the symbolism of the reverse, make students of Italian art consider it one of the very finest Italian Renaissance medals.