I have a pair of plates marked RITA CANADA on the back which I inherited from an aunt.
by Belinda (Essex UK)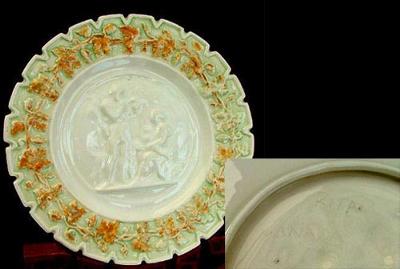 Photo shows the Pair of Studio Pottery Plates Marked RITA CANADA
The plates are quite pretty and certainly seem to have some age to them.
They are cream and green with very pretty autumn leaf borders and a raised centre.
The underside of each plate has the words RITA and CANADA etched into the porcelain.
Can't really find out anything about them and was wondering if anyone could help me out with some details and maybe a date.
Not sure if they are antique or maybe just vintage.
Any help greatly appreciated.
Belinda...
Comments on Beleinda's Pair of Rita Canada Plates
Not Rita McGie's plates by: Rita McGie
I'm sorry but those aren't my plates. They look like they are slip cast and I only do wheel thrown work.
I wish I could tell you whose they are, but I've never heard of Rita Canada work.
Possibly Plates by Potter Rita McGie by: John D
Your studio pottery plates are probably by Rita McGie, a Canadian Potter Based near Alberta in Canada.
You can more details on her website at https://www.ualberta.ca/~jmcgie/rita.html