Looking for Information on Grandmothers Pair of Doulton Burslem Jugs.
by Steve (West Yorkshire, England)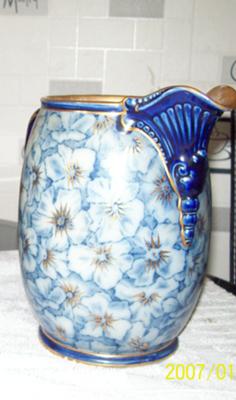 Photo shows one of my Doulton Burslem Jugs
These Doulton Burslem Jugs are my grandmothers and I am looking for any information regarding their origins, designers or date of manufacture.
We have 2 jugs with matching paintwork decoration but one stands taller than the other.
There are 'Doulton Burslem England' marks and the stamp just has the coronet on top of the badge.
Any help would be most grateful,
Thanks. Steve
Comments on Steve's Pair of Doulton Burslem Jugs
Doulton burslem jugs by: steve
Can anyone please provide any more information on these pitchers or jugs please?
Re Burslem Jugs by: John
I have one similar. The Coronet is for the 'Prince of Wales' and is circa 1887-1896.
My one has the 'C' mark and a 4 digit registration number and the artists initials AW for Ada Worthy.
Check out the marks underneath on the 'Doulton Marks' section of the website.