Information on Antique Plate
by Kim Blenkinsop (London)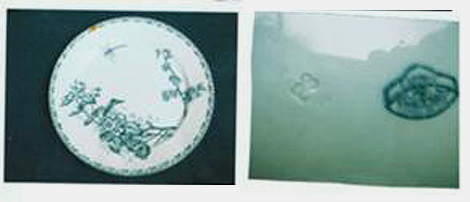 Photo of Blackberry Bramble Antique Plate and Base Mark
Here I have an antique plate, it has a crown with what looks like the word Carmen written on it.
It also has P3 and 69 on it. The antique plate has a dragonfly with blackberry bramble on the front.
Can anyone tell me anything about this antique plate who and where and when it was made if possible.
Thanks.
Kim Blenkinsop
Comments on Kim's Antique Plate
Antique plate CARMEN by: gaudreautique
Bonjour Kim, I found the Mark of your plate. It is French vintage faience SARREGUEMINES and your mark ( 1890-1918 ).
bye bye Paulin.G