Hummel Figurines Gallery
A look at some beautiful Hummel figurines and how collectable they are.
Not a definitive guide to M I Hummel figurines, just a quick look at the style and features of a Hummel figure.
Most are beautifully cute rather than realistic
This small collection is intended to show the style rather than inform on technical collector details.
Relevant makers marks can be found in the Hummel Marks. From TMK-1 to TMK-8 and The Bee Mark section.
Hummel Figures Gallery …
We have added some collector details where possible and included details of Hummel marks.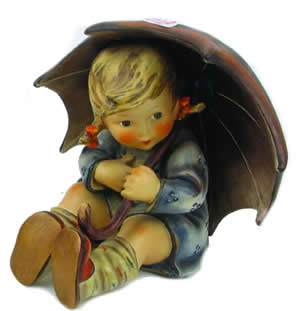 Hummel Umbrella Girl c1957
A large Hummel umbrella girl figure.
HUM 152/II B, TM-4, Dated 1957
---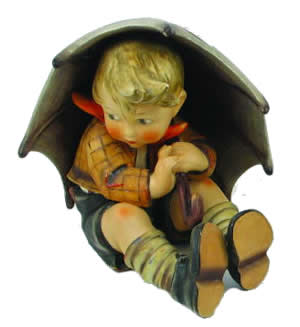 Hummel Umbrella Boy
Umbrella Boy Hummel 152/0B 4 3/4″ Artist Signed 80.
Goebel Bee with copyright W. Germany
---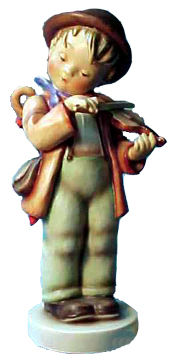 Hummel Little Fiddler
Little Fiddler HUM 2/II CE (10-3/4″). This figure was originally molded by master sculptor Authur Moeller in 1935.
It is the same boy in "Puppy Love". Old Names are Violinist and The Wandering Fiddler.
It depicts a boy in a hat with a blue tie carrying an umbrella and bag while playing the violin.
---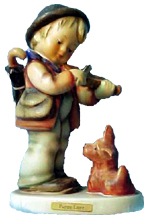 Hummel Puppy Love
An example of the first Hummel released entitled "Puppy Love,". HUM 1, TMK 3 (Stylized Bee).
Since it was only released in one size (5 to 5-1/4″), there is no size indicator on the underside of this Hummel.
It was discontinued while in TMK 6 with a FINAL ISSUE in 1988.
---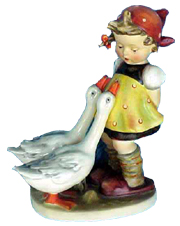 Hummel Goose Girl
HUM 47/2, TMK 1 CE – Perhaps the most popular Hummel figure "Goose Girl.".
The underside shows a clear incised "Crown" at the bottom of the underside at (6 o'clock).
---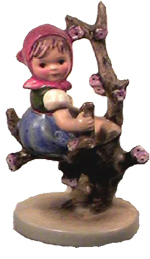 Hummel Apple Tree Girl
HUM 141/V, 10.25 inches – This Hummel Figurine was first produced in the 1970s.
The Apple Tree Girl has a girl sitting on the branch of a tree looking over her right shoulder and wearing a red scarf.
---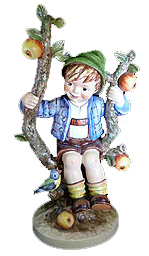 Hummel Apple Tree Boy
A rare Hummel figurine standing 10 1/4 in. tall. He is a boy with blue jacket and green cap, sitting in an apple tree with a bird near his knee.
Hummel Apple Tree Boy #142/V.
He is dated 1963 and has the #4 Mark, Stylized Bee w/ (c) by W. Goebel W. Germany (3 Line)
---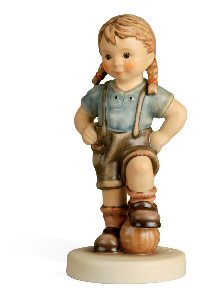 Hummel Ready To Play
Premier Collection Figure – Ready to Play is the first M.I. Hummel girl to wear lederhosen and actively participate in a sport.
A tribute to female competitors all over the world
---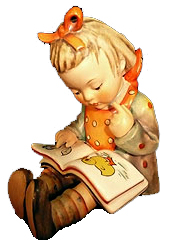 Hummel Book Worm
Delightful 4 in. Hummel Book Worm #8 is a little girl sitting with legs outstretched before her.
Orange ribbon in her hair, carefully examining a book.
She is marked with Stylized Bee – W. Germany
---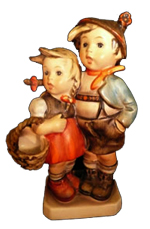 Hummel Surprise
Hummel Surprise #94/1 is a beautiful figurine showing a boy and a girl in traditional dress.
They are standing close together as if they were just surprised while walking through the woods.
Girl has a basket hanging on her arm. It bears the W. German Mark 1960-1963 and stands 5 1/4″-5 1/2″.
---
Example Prices for Hummel Figurines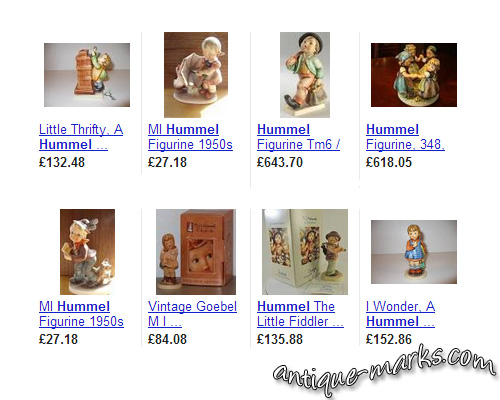 Tip! to check current prices for the really collectible Hummel figurines always have a quick look through the Hummel Collectibles Category