Looking for some help with Vaseline Glass Values
by Esther Anderson (Indianapolis, Indiana)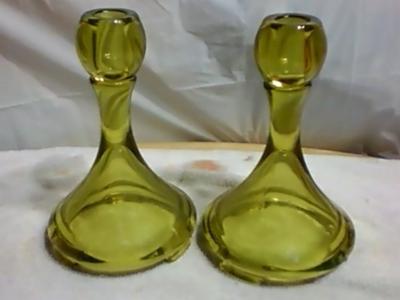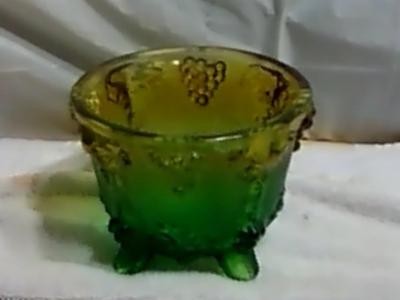 Photos above show my Vaseline Glass candlesticks and the vaseline glass candy dish
My mother who was born 1923 gave me these Vaseline Glass candlesticks and candy dish when she was alive.
They were my Grandmothers and she was born in 1903.
No-one wanted them but me, and no one is alive now that can tell me anything about either the Vaseline glass candlesticks or the candy dish.
I think I know how old they are.
But I'm hoping someone here can confirm the age and help me out with how to find out how valuable they may be.
Thanks for any help, Esther
Comments for Help with Vaseline Glass Values
I have one the same by: Herriman
I have one the same and it was sold to me as Vaseline glass. Mine is exactly the same but etched around the base and top.
I would love to know its age as well.
Stunning to look at - just gorgeous.
Not vaseline Glass, Use a fluorescent or LED black light by: Archibald
Those don't really look like vaseline glass.
If they are they will glow green under a black light (U/V light).
Use a fluorescent or LED black light, not a bulb; the bulbs don't work, I tried one.