A review of Hans Reinhart's The Trinity Medallion or Morizpfennig.
Hans Reinhart cast this silver medal, The Trinity or Morizpfennig in Leipzig in the month of January 1544. It is classed as a masterpiece of Northern European Renaissance art.
Obverse ... An ornate throne decorated with floral design, God the Father, seated facing, holding orb and sceptre, wearing an imperial crown and jewelled cope, before him Christ on the crucifix, surmounted by a Dove representing the Holy Spirit.
Angels attend in prayer on clouds either side of the throne, above them the heads of cherubim ascending to the heavens, 'PROPTER SCELVS MEI PERCVSSI EVM ESAIAE LIII' meaning
'I have smitten him for my people's transgression, Isaiah 53'
.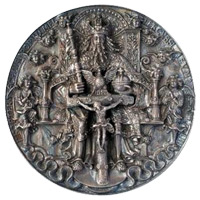 Reverse ... Two angels standing on a cloud support a tablet inscribed with an excerpt from the Athanasian Creed and a prayer to the Trinity.
Around which, 'REGNANTE MAVRITIO D G DVCE SAXONIAE ZC GROSSVM HVNC LIPSIAE H R CVDEBAT ANO MDXLIIII MENSE IANV' meaning 'in the reign of Maurice, by the grace of God, Duke of Saxony'.
Hans Reinhart's The Trinity medallion is beautifully cast and finely chased, iridescently toned with the lightest wear to some high points and without damage. A collectable medal of the finest quality.
2010 Auction Estimates for Hans Reinhart The Trinity are from £60,000 to £80,000 (GBP)
Hans Reinhardt the Elder (active 1535-1568).
Hans Reinhart the Elder was born in Dresden around 1510 and was active in Torgau, prior to living in Leipzig from 1539 until his death in 1581.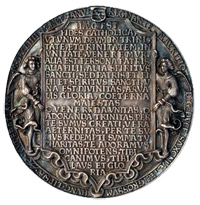 Evidence of his career begins in 1535 when he produced a pair of carved limestone portrait reliefs of Elector Johann Friedrich (1532-1554) and his wife Sibylle of Cleves, for the entrance to the staircase at Schloss Hartenfels at Torgau.
It is believed that from 1544 Reinhart was obliged to concentrate on his work as a goldsmith after officials from Leipzig?s Goldsmiths Guild argued that producing medals in silver made him subject to their regulation.
While Reinhart challenged this he lost his case and was ironically reduced to becoming an apprentice with Georg Truetler for five years.
Amongst the very restricted amount of new medallic work he produced in this period is his masterpiece the Trinity, also known as the Morizpfennig as it was commissioned by Duke Morritz (elector 1547-1553).
The silver medal by Hans Reinhart, The Trinity medallion or Moritz-pfennig, is without question a masterpiece of Northern European Renaissance art.
In work produced for Maurice's cousin, Johann Friedrich, Reinhart had incorporated symbols and references sympathising with the Lutheran movement, clearly stating the Elector's religious affiliation.
In Hans Reinhart The Trinity, through the incorporation of the Athanasian Creed with its theological relevance to both Protestants and Catholics alike, Maurice appears to attempt a reconciliation between the two churches.
Highly prized then as now, copies of Hans Reinhart' The Trinity medallion were cast in 1556, 1561, 1569 and 1574, the last three in the name of Elector August, Maurice's successor.