Wondeful Royal Doulton Collectible from my George Tinworth Mice Collection. Dated 1886 and called Play Goers.
by Pam (Delray, Florida)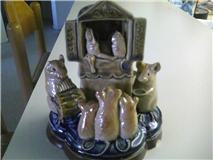 I inherited this George Tinworth mice figure from my great grandmother, this is part of my mouse collection, which was also passed down to me.
It shows three little mice in front of a puppet stage, with a musician mouse to the left and a collection mouse to the right.
Two tiny Tinworth mice are on stage, with a puppeteer mouse way back inside the stage.
It's a beautiful George Tinworth novelty piece and I love it.
But I must sell it, and would appreciate any advice on how to do so, or even where best to sell it.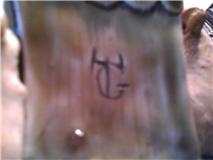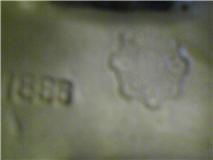 Thank you,
Pam.
Photos show the George Tinworth Mice figure entitled 'The Play Go'ers' and the George Tinworth Signature Mark with the Royal Doulton Marks dating to 1886
Comments on Pam's George Tinworth Mice 'Play Goers' figure:
Thank you by: Pam
Thank you Kat. I have already contacted Christie's. It's a wonderful little collectible - glad you thought so, too!
Rare George Tinworth Novelty figure by: Kat
Hi Pam, what a lovely rare piece of Doulton pottery.
From what I can remember this group certainly does come from George Tinworth's mice collection and it is called Play Go'ers.
It actually shows a family of mice watching a Punch and Judy show with a one-mouse band supplying the music.
George Tinworth usually modelled mice as chessmen or in groups that tell a story, to provide himself with some light relief.
The mouse figures can be quite valuable. Especially in good condition.
Christie's Auction House sold this same piece at an Arts and Crafts sale on 6 July 2006. The piece sold for £2,160 GBP ($3,966 USD).
So, I would take your piece to a reputable auction house and have it valued before deciding where to sell it.