I have a box of sixty-one George Eliot Satin Proofs.
by Marilee Johnson (Chandler, AZ)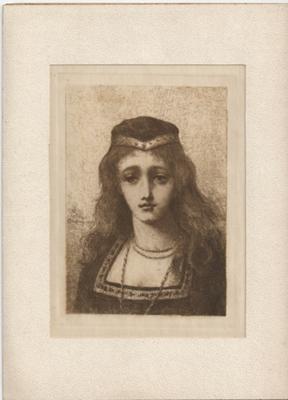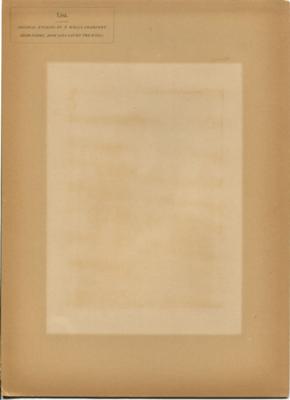 Photos show the first George Eliot Proof and the rear of the George Eliot Proof
The inside of the box reads:
George Eliot Illustrations This is a duplicate set of sixty-one illustrations to George Eliot's complete works, printed on satin, and presented by the publishers to the subscriber to set No 7 de Grand Luxe Edition Estes and Lauriat, Publishers Boston, Mass.
Each proof is matted, with the name of the etching on the back, along with the name of the artist.
The artists include:
F. Wells Champney
Walter Saterlee
Wm. Unger
R. Swain Gifford
S.G. McCutcheon
W.H. Shelton
Will H. Low
F.S. Church
E.A. Fowle
S. A. Schoff
and J. Henry Hill.
The satin proofs are cited as original etchings, etching after a painting (naming the painter), and photo-etching from a painting (naming the painter).
The only reference I have ever been able to find is a reference in an auction catalog that read:
Catalog of the magnificent private library of the late Col. Jonas H. French of Boston, Mass To Be Sold 1904 #550 Eliot Extra Illustrations to the Complete Works of George Eliot
The box is maroon colored, with a faux snake or alligator grain.
George Eliot Satin Proofs is written on the front in gold.
The box is falliing apart at the seams, so I have it tied with cord.
I received these George Eliot Satin Proofs from my grandmother in the 1970s and just wanted to share
Thanks for looking ... Marilee
Mary Anne Evans (22 Nov. 1819 to 22 Dec. 1880)
Mary Anne Evans is better known by her pen name George Eliot, she was an English novelist, journalist and translator, and one of the leading writers of the Victorian era.
She is the author of seven novels, including Adam Bede (1859), The Mill on the Floss (1860), Silas Marner (1861), Middlemarch (1871–72), and Daniel Deronda (1876), most of them set in provincial England and known for their realism and psychological insight.
She used the male pen name, George Eliot, to ensure her works would be taken seriously. Her 1872 work, Middlemarch, has been described as the greatest novel in the English language ... (extract see: Wikipedia entry for George Eliot)