I love collecting tea cups and came across this lovely Doulton Burslem tea cup and saucer.
by Viviana (Portland, OR USA)
Both the cup and saucer are marked in green: Doulton Burslem England - Rd.No: 258448 and then handwritten in black glaze to the side: HB 2815 C7830.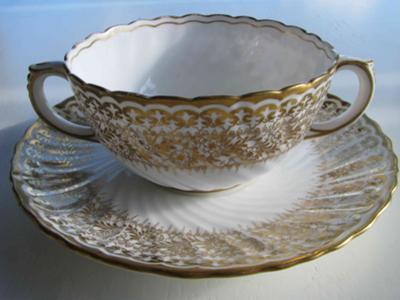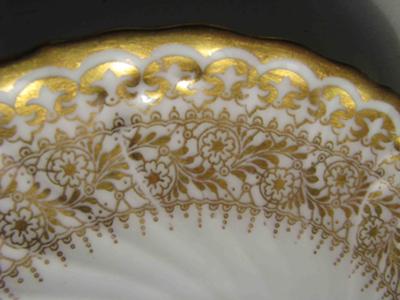 Photos show my Doulton Burslem cup and saucer side view and a close up of the decoration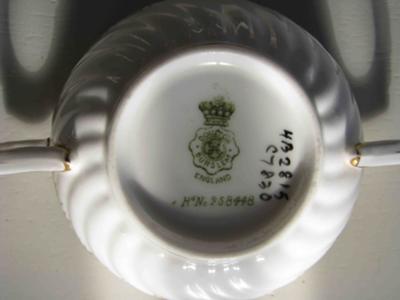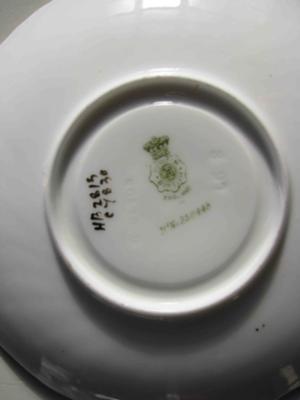 Above photos show the Doulton Burslem marks under the cup and the Doulton marks under the saucer
On the saucer, but not on the cup, there are also some impressions that say: Doulton and some numbers that are hard to make out.
I have included some pics and looking online, it looks like this tea set dates to between 1896-1897, is this correct?
The Doulton cup and saucer have the most amazing deep ring when lightly tinged with my finger.
I knew I loved the set then and keep it safe, but am nerve-wracked about breaking it because it's so light and delicate.
I am curious as to whether this set has any value to the general public?
Thank you for any help.
Viviana
Comments on Viviana's Delicate Doulton Burslem Tea Cup and Saucer
Dates for Doulton Cup & Saucer by: Gerald
Hi Viviana,
The Doulton makers marks on your set indicate that yes, the design was introduced around 1896-97 however the H code suggests a manufacturing date in the 1920s.
It is a very nice set and it is collectable, so providing the gilding is in good order and there is no damage it could be worth something between 20 and 50 pounds.
Thank you for sharing.
Gerald.