Coin Collecting Information and Coin Publications to help the beginner.
There is vast amount of coin collecting information available online covering most aspects of coin collecting and trading.
However there are still several hardcopy publications that the novice coin collector will find extremely useful. Including the U.S. Red Book and various good quality magazine publications.
Whether you choose to buy printed information or subscribe to the online versions, you'll find them indispensable as you build your own valuable coin collection.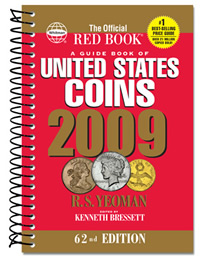 The Red Book
Though the full title is 'A Guide Book of United States Coins' by R.S. Yeoman, this publication is commonly referred to as 'The Red Book' owing to the color of the cover. Prices range from a few dollars to about $12 for the 60th edition.
Published annually, The Red Book provides an excellent overview of basic coin grading factors, approximate value, descriptions and the history of U.S. Coins.
Get your copy of The Red Book it's a must have for coin collectors hungry for coin collecting information.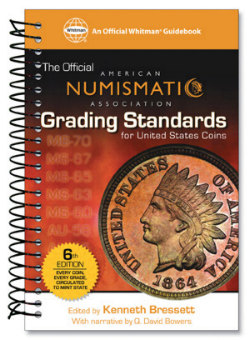 ANA Grading Standards for United States Coins
The 'Official A.N.A. Grading Standards for United States Coins', published by the American Numismatic Association is a must-have for serious collectors.
It is a standard among professionals for grading coins, an important factor in determining prices. Readers will pick up lots of helpful hints about grading their own collection.
The ANA also offers memberships.
Visit The American Numismatic Association for details.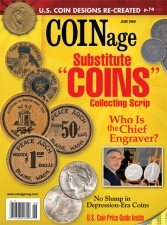 COIN and COINage Magazines
The base standard among numismatists, these two publications are packed with useful articles on collecting, care and lots more coin collecting information.
For over 40 years the COIN and COINage magazines have been used by amateur and professional coin collectors alike, to find out everything you would ever want to know about coin collecting.
COINage will guide and entertain you every month with easy-to-read, colorful articles. Each issue features the latest updates on U.S. coin prices with an insider's guide to market trends.
See COINage Magazine for details.
Coin Collecting Newspapers

Coin World and Numismatic News are two weekly publications that are filled with the latest coin collecting information and everything about the coin collecting world.
Current prices, history-making deals, up-to-date info about dealers, professional grading services and lots more are provided for only a couple of dollars.
You'll also get good sources for purchasing supplies. If you're looking for Whitman folders, clear plastic tubes, white cardboard holders with Mylar windows or anything else you'll find lots of ads.
See Coin World or Numismatic News for good examples and details.
Coin Collecting Clubs

Thanks to the Internet there are even more coin collecting clubs than ever providing loads of coin collecting information and help.
Real clubs supplying real coin collecting information have been popular for decades, but were often limited to local memberships.
Now with social networking, hobbyists and professionals can connect with each other in a few mouse clicks.
However, large internet based clubs do have one potential drawback; with a local club, members quickly come to know one another personally. Very large online venues are a different matter because they can attract the wrong type of collector.
Using Online Coin Collecting Venues ... an initial caution is required before you undertake any kind of exchange or transaction. Regrettably, some unscrupulous individuals will take advantage of the unwary. But, once you get to know the person on the other end, it's just like any other online meeting place.