I found this blue and white pottery jar at a thrift store and was intrigued by its beauty and theme.
by Julie (Minnesota, USA)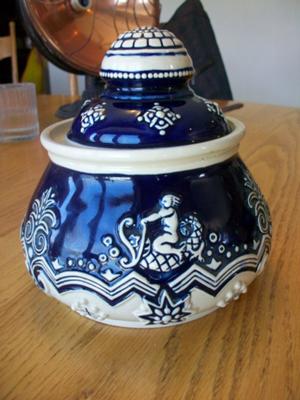 Photos included show my Blue and White Jar Decoration with Neptune Theme with the Base Marks & Numbers
The decoration featuress a figure, that I assume to be Neptune, riding a sea serpent along the outside of the jar.
There are several manufacturers marks on the base of the jar.
The maker's mark has a sligtly mis-shapen rectangle with a T shaped figure inside.
The horizontal line of the T hangs low on the vertical line.
The vertical line reaches outside of the box and is crossed with another horizontal line.
There is a small arrow or initial shape at the top of this line.
Near this mark the letter "A" is handwritten into the surface. The numbers 53, 32, and 5 are also stamped as well as 1L.
Any information that you could give me about this piece would be very much appreciated.
Thanks, Julie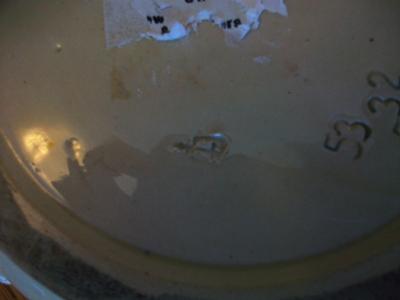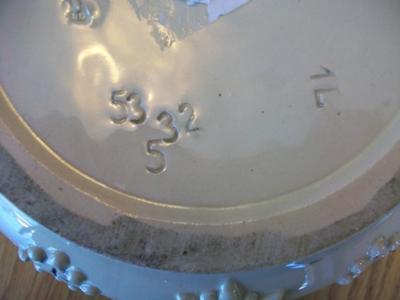 Comments on Julie's blue and white pottery with Neptune Theme
We have one too! by: Jack
We have a similar blue and white pottery with a flute player - no idea of age or provenance?
Added details by: Julie
Upon further examination, I would say that the maker's mark on the blue and white pottery resembles an arrow inside of a square.