Recently Inherited this beautiful Bavaria Schirnding Tea Set with the flower makers mark. Is this a rare find?
by Peggie Hanson (Cayce, Sth. Carolina)
My husband inherited this beautiful set from his Grandmother who passed away a couple of years ago in her 90's.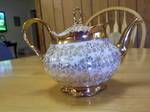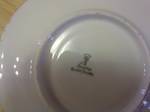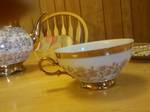 My husbands father purchased it while he was in the service so we know it is at least 50(plus) years old.
We have tried finding information about this Bavaria Schirnding set online but have been unsuccessful.
We have so many questions so maybe someone on this site will be able help us.
I have only seen one item on the internet with the same Bavaria Schrinding with the flower makers mark so is this a rare find?
Any help will be gratefully received.
Thanks, Peggie.
Comments on Peggy's Bavaria Schirnding Tea Set
Schirnding Bavaria Gold Trim Tea Set by: Danielle Weiner
I too have this exact tea set. My late father gave this set to my mother before they were married in the early 60's. My father purchased it around the Mediterranean maybe Italy while serving in the navy. I have found the exact set on ebay going for $400.00.
[hr style="solid|dash|dot"]
Schirnding Bavaria pattern SCG26. by: Dale
Can be found on replacements site. Pattern is SCG26.
Creamer about $25. Cup and saucer about $14.
Described as platinum flowers
[hr style="solid|dash|dot"]
Wondering about prices by: Anonymous
The only amount I have seen is around 110.00 on ebay for the whole tea set, but I have a set on as well. If anyone finds anything better please keep in touch. Thank you and good luck to all who have this set.
[hr style="solid|dash|dot"]
no info by: peggie
I have not found out any other info, sorry. Still searching.
[hr style="solid|dash|dot"]
Schrinding Bavaria tea set by: mp
Seems to be a popular tea set, I also have this tea set, was my great grandparents (paternal). Been trying to get a 'price' on it without spending a lot of money for the appraisal.
[hr style="solid|dash|dot"]
I have the same tea set by: lee shawn davison
I haven't been able to get any information either on this set. If you find something out please let me know here.
[hr style="solid|dash|dot"]
Schirnding Bavaria tea set by: heather
I too have a Bavarian tea set which was given to us by my husbands nan. I also do not know much about it and would like to find out more
[hr style="solid|dash|dot"]
Schirnding Bavaria/ Teaset by Jaqueline
What where you able to find out about your teaset? I to have a set that looks almost exactly like the one you pictured. Would like to know more about the set also.