Coin Collecting Reviews - An Australian 15 Pence or dump coin c1813.
A circular silver coin, 19mm in diameter with milled edge.
Bearing on the obverse a crown with the words, NEW SOUTH WALES and date below, 1813.
The reverse with the denomination FIFTEEN PENCE in two lines seperated by the engraver's initial H.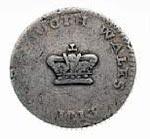 5.5g with crown
New South Wales 1813
Appears to be Mira type A/1
Date clear and legend partly clear.
Cuts under A and on the left of the crown on obverse.
Worn on reverse, generally fine.
Auction Estimate 2008 for the Australian 15 Pence Dump coin - Sold for £4935 GBP
History of The Australian 15 Pence Dump Coin
In 1813 Governor Lachlan Macquarie overcame an acute shortage of Australian currency by arranging for the purchase of Spanish silver dollars.
The Spanish Silver Dollars had the centres punched out to create two new coins.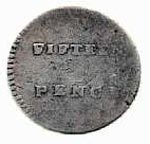 The Holey Dollar, valued at five shillings.
The Dump coin valued at one shilling and three pence or 15 pence.
The work was assigned to William Hanshall, a convict previously transported from England for forgery.
William Hansall continued production of these coins into 1814, but no new dies were ever cut for the 1814 coins.