This Arzberg Bavaria 22 carat gold porcelain tea set was dropped off at our church thrift store and we have no idea what it is worth.
by Bonnie Giddens (San Antonio, TX, USA)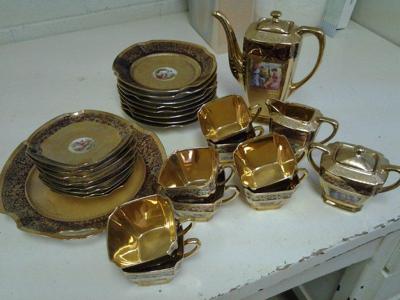 I want to get this in the hands of an owner that will treasure it and at a price that benefits our charities.
It is a complete set and I found it referred to as a luncheon set or tea set but can't find any specifics about this set online.
The Arzberg Bavaria makers mark indicates it was made between 1928 and 1946.
It consists of 8 cups & saucers, 8 small plates, a serving plate, tea pot, creamer and sugar bowl.
The painted scene in the center differs. A couple of the saucers and cups have matching scenes but others are unique. In all I believe there are 11 different scenes represented.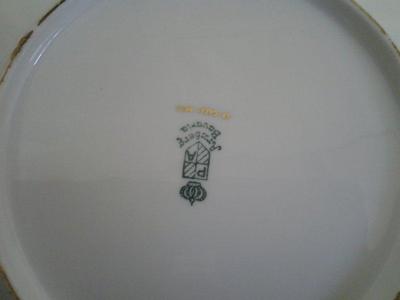 This had to be a part of a porcelain collection of some sort. The scenes are pastoral and some appear Roman to me, but I'm not an expert.
I hope someone sees this lovely Arzberg Bavaria 22 carat gold porcelain tea set and can tell us more about it or what it is worth.
All help appreciated.
Bonnie