Collecting Original 1920's and 1930's Art Deco Photographs.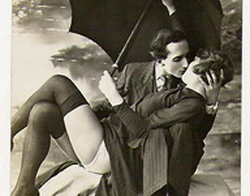 Together with top quality reproductions, original art deco photographs show the fixation the Art Deco period had with the female form.
Black and white photos from the period show beautiful, stunning, slim and sylph-like figures.
Figures that echo the super model figure so much admired today
Which is in part, the reason why art deco photographs are highly collectible and becoming very popular with interior design professionals.
The Female Form in Art Deco Photographs
Fans and collectors of Art Deco love the sensual clean lines and the sophisticated sylph like female figures they represent.
Even well executed reproductions of original art deco photographs are highly collectable.
They demonstrate the design influences from the age of Egyptian Pharaohs, the Orient, Tribal Africa, Cubism, Futurism, the age of machines and graphic design.