Art Deco Mirrors are the true essence of Art deco style.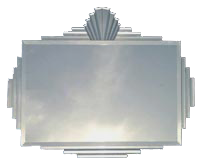 Mirrors provide light and give the impression of space which is the focus of all good Art Deco interiors.
Original Art Deco mirrors are still available and provide an elegant focus in any room.
Good quality modern equivalents can be exceptional and can still provide that essential vivid reflection, soft light and air that all period art deco interiors should have.
Good quality mirrors helped reflect light from Art Deco lamps that featured female figures holding a ball of light.
Art Deco Mirror Glass ... can be etched, sandblasted or enamelled as well as coloured.