Adding Geometric Art Deco Clocks to your Antiques Collection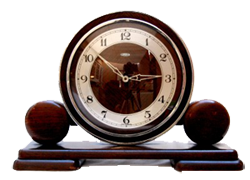 Clock design was heavily influenced in the 1920s and 1930s by Art Deco and clock cases from the period often echo geometric architecture.
In Europe, the French and Swiss were the leading producers of Art Deco clocks with the French excelling at fashioning clocks for the mantlepiece; produced in marble, onyx, brass, glass, and chrome.
Some French art deco clocks and garnitures were paired with bronze figurines including, Diana the Huntress complete with ivory bow and green onyx shield.
Animal figures were popular and include fantail doves, lovebirds, and gazelles.
French Art Deco Clocks
The French also produced large grandfather clocks in the Art Deco style, some of which were made of rosewood with silver-finished faces and clear glass on the clock pendulum doors.
French Art Deco clock designers included Edgar Brandt, whose hand-wrought, forged iron clocks sit on marble bases.
Cartier made all sorts of clocks, including square travel clocks with gold hands and black enameled handles.
Compagnie Industrielle de Macanique Horelogere, sold clocks under its JAZ brand and introduced a line of Art Deco clocks in 1934.
Art Deco Clocks are usually geometric with round faces in horizontal cases, colorful (think blues, greens, and gold), and often incorporate mirrors and figures in their designs.