These antique drinking monk tiles have been past down to me through the family.
by Eileen (England)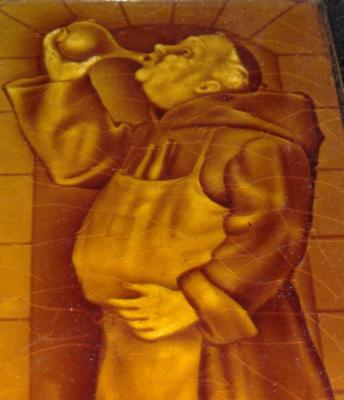 Photo shows the Drinking Monk Decoration on my antique tiles
I have had these antique tiles for over 20 years. My dad before me and his mum before him.
I have 3 tiles 2 of which are still in the frames (very old frames).
One I have taken out to see if there are any markings on the back. ENGLAND I can see but unless I am missing a mark that is all that is on it.
These antique tiles are definitely over 50 years+ old.
Similar ones I have found on the internet under the name of Dunnill but this means nothing to me.
This picture is only half of the length. The drinking monk is shown standing on the full picture.
I could not fit the whole length in. It is approx 12" x 6"
Thank you and if anyone can help I would appreciate it.
Eileen
Comments on Eileen's Antique Tiles with the Drinking Monk
drinking monks tiles by: Caroline
The antique tiles are from Henry Richard Tile Co. Ltd in Staffordshire, England.
They featured in their c1900 catalogue, page 84 in The Decorated Tile ny J & B Austwick, a book which comes up on ebay quite frequently.
Hope this helps ... C.