There are many excellent reasons why you should be collecting the American Silver Dollar
American Silver Dollars, (Silver Eagles), are congressionally authorised and produced by the United States Mint at West Point, New York.
They are legal tender coins with a face value of one dollar, although they are worth considerably more since the market price of one ounce of silver has been many times greater than one dollar for more than four decades.
Since the first day American Eagle Silver Dollars were released in 1986, they've been the most highly prized and most popular Silver Bullion Coins in the world.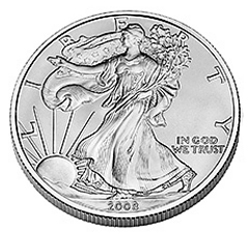 Many coin collectors consider the design of the Silver Eagle coin to be one of the most beautiful ever produced.
The obverse (front) of the coin features Adolph A. Weinman's stunning Walking Liberty design originally used on U.S. Silver Half Dollars from 1916 through 1947.
The reverse design is a rendition of a heraldic eagle by John Mercanti and also features a shield, with 13 stars positioned above the eagle's head, representing the 13 original American colonies.
Highly prized for their historical beauty and pure silver content, American Eagle Silver Dollars are the largest Silver Dollars ever issued by the U.S. Mint.
Are American Silver Dollars Legal Tender?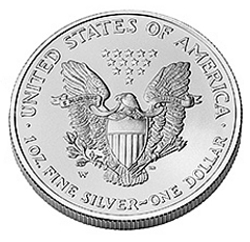 Unlike silver medallions, silver bars, or art bars, American Eagles are Official Legal Tender, guaranteed by the US Government as to the coins silver weight and silver purity.
By law, each coin contains one full troy ounce of pure silver; ie, each coin contains 1.0000 troy ounce of 0.9993 pure silver and is 40.6 mm (1.598 inches) in diameter.
Requiring no assaying, American Silver Eagles are easily converted to cash at any time.
Every Silver Eagle is a work of art, minted to exacting standards by the United States Mint.
These classic and highly collectible coins are among the most affordable ways to own government minted bullion coins.
American Silver Dollar coins are commonly used as investments or gifts or collected as protection in case of national disasters or bank failures.
Protecting Your Assets - Why Buy American Silver Dollar Coins ...
NOTE: Silver Coins are the standard recommendation for almost all survival and national disaster situations.
When banks fail and paper money is useless, only silver and gold is accepted everywhere and in any emergency.
To protect your saving and investments, never have all your assets tied up in fiat currencies.
Fiat currencies are money, which is not backed by gold or silver.
A common practice during political upheavals and economic depressions, is to convert about 20% of your cash and other assets to precious metals, ie; gold or silver.
This is why gold and silver prices rise during political and economic upheaval. The American Silver Dollar is the safe haven Americans turn to, at those times.