Thomas Chippendale (1718 to 1779)
Who was the antique furniture maker Thomas Chippendale (1718 to 1779)?

He was a leading British cabinet-maker whose work was extremely influential during the early Georgian period. It was widely copied and imitated in later years.
Thomas Chippendale is probably the best known British cabinetmaker.
He authored The Gentleman and Cabinet-Makers Director (1754; 2nd edition, 1755; 3rd edition, 1762) and he was born in Yorkshire, the son of a carpenter.
By the time he married, in 1748, Thomas Chippendale was already established in London and living in Conduit Court, Long Acre.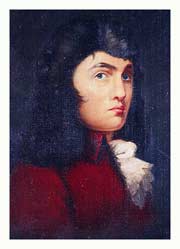 He moved to 60 St. Martin´s Lane in 1754, where he had workshops and a timber yard.
He took James Rannie into partnership, and for much of his career, Chippendale was mainly occupied with running his very extensive business, rather than in cabinetmaking itself.
He continued the business alone after Rannie´s death in 1766.
In 1771, Thomas Haig joined the firm, which then became Chippendale, Haig and Company.
Thomas Chippendales firm undertook the complete furnishing and decoration of large houses such as Nostell Priory and Harewood House.
The publishing of The Director made Chippendales name a household word. Nothing on such a scale had ever been published before in England or elsewhere.
Almost every type of domestic furniture was illustrated in it. The designs were predominantly French Rococo in style, including neo-Gothic and chinoiserie, known as Chinese Chippendale.
Several of Thomas Chippendales designs are so elaborate and fantastic as to be impractical to be carved in mahogany or other hardwood.
It has been suggested that he employed Mathias Lock, H. Copland, and perhaps others, to ghostwrite designs for him, but there is no proof of this.
He specifically claims in the preface of The Director to have made most of the designs himself, and it seems likely that he did so, especially for the case pieces.
But, whoever made the designs, helped himself freely to both English and Continental pattern books. Several of the designs border on plagiarism and none is of great originality.
Nor does Chippendale´s supremacy among English furniture makers, as opposed to furniture designers, rest on the furniture he made in the Rococo or Director style.
Chippendales finest furniture is in the neo-classical style introduced by Robert Adam, and is very different from that which is commonly associated with his name.
However, little if any of Chippendales furniture appears to have been designed by Adam.
It has been suggested that the neo-classical Chippendale furniture was designed by Thomas Chippendale, the younger, who published Sketches for Ornament in 1779, and this does seem likely.
Some of this furniture is extremely simple and plain, but some is of great elaboration, notably large commodes and library tables with extremely delicate marquetry decoration, occasionally with ivory inlays and often with ormolu mounts in the anglicised version of the Louis XVI style.
None of Chippendales furniture was stamped or labeled; therefore, authenticity can only be established by bills or other documentation.
Furniture after the designs in the Director are not necessarily by him or his firm, though there is a presumption that it came from him if it is of high quality and was made for a house whose owner subscribed to the Director.
After Thomas Chippendales death in 1779, the firm of Chippendale and Haig was carried on by his son Thomas (1749-1822).
His partner, Thomas Haig, had retired in 1796, and in 1804 Thomas Chippendale the younger went bankrupt.
However, he appears to have recovered quickly and resumed his furniture business. He was able to maintain the firms high level of craftsmanship.