The Selling Antiques Guide – How you can profit by selling other peoples antiques
Buying antiques to re-sell can be very profitable but it does come with a large element of risk.
Risk that you can avoid by selling other peoples antiques for a generous commision.
Helping other people to sell their antiques can be very simple and can earn you a decent income.
Here's what you definitely shouldn't do …
Dralle earns over $250,000 selling antiques on eBay …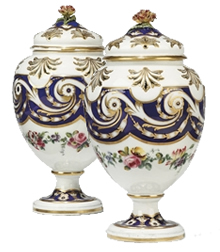 Dralle, spends much of her time canvasing garage sales and looking for treasures she can sell on eBay.
She cites a recent example of a wood carving of a bird, which she recognized as a piece of work by a master carver. She paid $2 for it, listed it on eBay and plenty of collectors were quick to recognize its value.
The top bid for the carving was $2052.00
"Those are the ones that make me jump up and down," says Dralle. "Really, I'm just so happy that I can live wherever I want, and I love what I'm doing." It's one of those intangibles that nobody can put a price on. – Source AOL Small Business
Dralle spends much of her time trawling garage sales, yard sales & boot sales looking for treasures. There's a 1 in 10 chance Dralle's lucky find generated some nice commission for us – Thank you Dralle for all your hard work … The Selling Antiques Guide.

Judith Isaacson lives in Israel and sells jewelry from New York, to customers around the world

Over the last eight months the learning curve has been steep. Within 2 weeks of opening our eBay store the fraudsters were running rampant.

David Bloom wrote in from Cremona, Italy, with ready cash for a $20,000 sapphire ring, and a strong recommendation that we use an escrow service to protect him from losing his hard earned cash. It's true that he never spoke about protecting us from losing our hard earned merchandise.

At the eleventh hour, well, actually at 8 AM in my pajamas in front of the computer screen, with the aid of my calm, dependable and analytical husband, I avoided our first theft in the virtual world.

We learned that not all escrow sites are created equal, and that the one our customer recommended was a fraud. In his last e-mail note to me, Mr. Bloom lamented that the site was phoney and that he had just suffered a loss of $20,000. Couldn't we have told him sooner?

Other would-be sales included stolen credit cards (this is apparent when the buyer suggests that you take more money than the posted sales price to cover charges), more fraudulent escrow sites, money transfer deals, and a bank check swindle. As Joel points out, the crooks are always a step ahead. – Source eBay Success Stories

The learning curve is steep and the risk of fraud looms large, but you don't have to share Judith's risks nor do you have to spend months negotiating deals to source your products …. Thank you Judith for all your hard work – The Selling Antiques Guide

Wanda Silva lives in Boston and sells anything that's popular, to any customers that want her goods.

Believe it or not I ran out of things to sell. Selling was like a drug for me so I started shopping various stores for clearance stuff and it sold. I could not believe how good it was going and even managed to convince an online local buddy to try eBay.

She is now a Powerseller and we are always swapping tips and our hot finds. We even tell our customers that if they find stuff from our friend's auctions we can ship the items together and save them on shipping.

Then my sales plummeted because I let them.

After trying for so long for another child we found out we were having another baby. It was a rough pregnancy so I just listed on good days and relied on my husband to help bundle and ship stuff. I still kept merchandise in the store and was always surprised at how things would sell without me listing any auctions or doing any promoting.

Now our little girl is 8 months old and I'm getting back in the swing of things. I'm changing the look of my store and taking advantage of the extra custom pages we now have available. My personal goal is to be able to cover the credit card bill again, buy the groceries, keep my little girl in boutique clothing, buy my son all the video games he wants and reinvest the remaining profit into my business. Source – eBay Success Stories

Life doesn't have to be that hard. You don't need to suffer those highs and lows, just because your life takes a slightly different turn … Thank you Wanda for all your hard work – The Selling Antiques Guide.

So, how can you profit without risking your money buying antiques?

Without rummaging in thrift shops, spending days at auctions and risking your hard earned cash on items that may not sell, items that may not even reach the price you paid for them?

Some of the many things that "successful" ebay sellers don't factor in, that they don't account for when working out how successful that sale has been are …

Time – what are you earning as an hourly rate. All that time spent at garage sales, in thrift shops and at auctions.
Fuel and Travel Expenses – not just fuel but car costs, trips to mail parcels and buy packaging.
Post and Packing Costs – boxes, tape, stamps, labels, bubble wrap, ink and paper.
eBay fees – the many and varied costs of owning and operating an eBay shop and the real cost of listing mutliple items and final sales fees.
Unsold Inventory – that's right all that stuff in the garage, or the loft or the spare room. The stuff that looked like a good earner last month, which didn't even make the minimum bid.
Stress and Worry – will it make the reserve, have I bought a DoDo, will they leave positive feedback

Most eBay sellers rejoice, they're elated, when that $2 find sells for $100.

Most sellers never stop to consider how much of that $100's went to eBay …

to Paypal,
to the courier service,
to the shop that sold the box, the tape and the packaging.

Most sellers never think for one minute how much of that $100 was used in fuel to find, collect and post that item.

So, How can you profit without risking vast sums buying antiques?

Without having to learn all those antique marks or being able to spot a fake or a forgery.

Well, eBay has done all the ground work for us by providing a safe and trusted marketplace for buying and selling antiques.

eBay has provided great branding and a well developed platform that means plentiful sales for those dedicated eBay sellers.

All we have to do is help… All we have to do is add impetus. All we have to do is show potential buyers what's on offer.

And; we can do it without risk; we can do it without buying products; we can do it without paying fees; we can do it without risking our hard earned cash …

YOU can do this without spending your money on risky inventory.

YOU can do this without having to learn about antiques.

YOU can do this without buying stock, without negotiating with suppliers, and without paying ebay fees.

The Selling Antiques Guide can show you how there is profit to be made by Selling Other Peoples Antiques. And not just antiques, but almost any other popular product.

And; the best thing is … eBay will pay you to do it. All you have to do is select your market segment and build your antiques store.