The Art Nouveau Gallery showcasing a few excellent examples of the Art Nouveau style.


An art nouveau gallery giving you a brief look at the exceptional quality and superb design available to the art nouveau collector.
It shows clearly how Art Nouveau artists and designers rejected classical European art and looked to Celtic symbols and natural flowing lines for inspiration.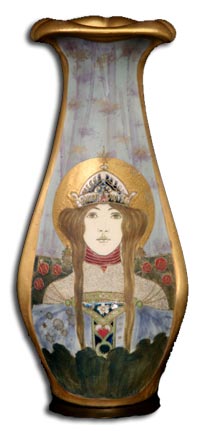 Amphora Ivory Porcelain Vase
An ivory porcelain vase from the portrait series Allegory of Russia designed by Nikolaus Kannhauser for Amphora (circa 1894-95); decoration (circa 1899-1900).
The tri-lobed body has gilt raised edges and an everted lip. The decoration consists of a frontal portrait of a Russian princess, her head with gold halo. The opposing sides feature painted forest scenes and stylised roses, outlined with gold threading
For examples of vases from the Allegory of Russia series see: Richard Scott, Ceramics from The House of Amphora, 1890-1915 (Richard L. Scott, 2004) and Byron Vreeland, Monsters & Maidens, Amphora Pottery of the Art Nouveau Era (Byron Vreeland, 2003).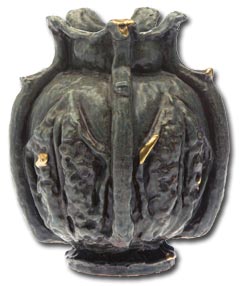 Stoneware vase designed by Georges Hoentschel
A rare and important hand built and carved stoneware vase designed by Georges Hoentschel and executed by Emile Grittel.
The organic body bears an abstract foliate design with stem-like protrusions around the lip and a squat circular foot. Glazed in deep green, slate gray, and aubergine-brown, with brilliant gold highlights.
A collaborative effort by architect/designer Georges Hoentschel and ceramist Emile Grittel. A superb example of Art Nouveau ceramics from the Carries School (L'Ecole de Carries). Made in Montriveau, Saint-Amand-en-Puisaye, Nievre prefecture, France.
Ferdinand Preiss Bronze
An art nouveau patinated bronze and ivory figure "Pomona".
Modelled as a part robed woman holding a fruit bowl in her out stretched left hand and mounted on a tan marble circular base
Francois Alphonse Piquemal
An art nouveau bronze and ivory three quarter length study of a medieval lady wearing a head dress.
Mounted on a stepped marble plinth 21cm high, signed.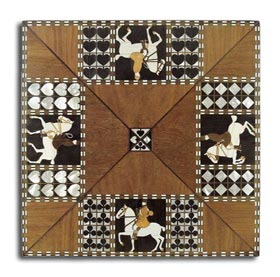 Josef Hoffman & Carl Otto Czeschka
Card table for Karl Wittgenstein, c1907
Wiener Werkstatte in Macassar ebony, carved wood, gold-plated.
Marquetry in various types of wood, ivory and mother-of-pearl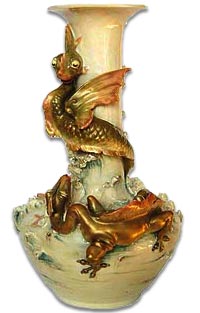 Royal Dux Lustre Pottery Vase
A well executed Art Nouveau lustre pottery vase with dragon and saurian in combat.
Bohemia circa 1900.
Marks: Royal Dux raised pink triangle mark
Art Nouveau Bronze by H Schmid
Art Nouveau symbolist bronze of a woman in the form of a snail.
By H Schmid – Austria or Germany circa 1900
Marks: Signed H Schmid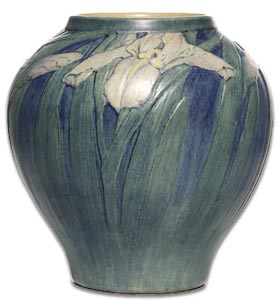 Newcomb College Vase
An exceptional Newcomb College vase of bulbous Art Nouveau form with carved and painted irises.
Executed and signed by Anna Francis Simpson.
Art Nouveau Inspiritation … The art nouveau designers rejected the inspiration of classical european art and instead looked to Japanese, Celtic and other folk art as a basis for their work.
This can be seen in works by artists such as Gustav Klimt. Typical motifs come from nature: flowers, insects and birds. Lines curve and wind, straight lines were scorned by art nouveau designers.