0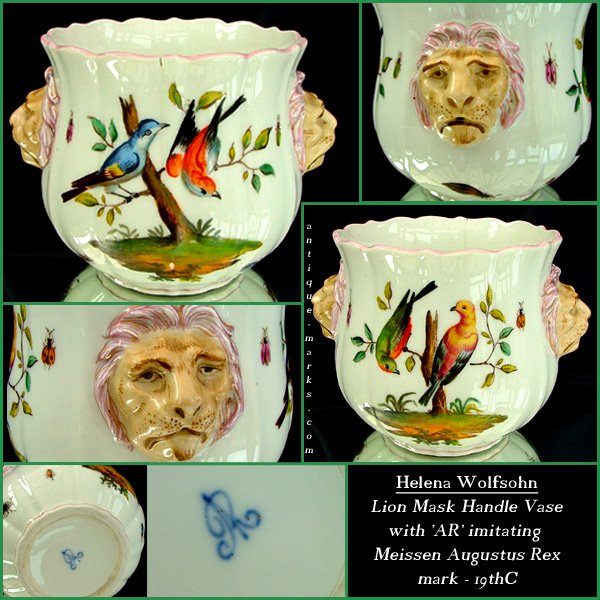 Meissen Marks
Antique Meissen Marks and the blue crossed swords mark imitators. Not all blue crossed swords marks are genuine Meissen marks. Knowing what to look for and the dates that are relevant to each Meissen mark can help you avoid buying imitation Meissen porcelain. You should remember that the marks detailed below are mostly drawn by hand and that slight variations in the format occur and the mark only supports the source and doesn't testify to it. The true test of an antique Meissen ...
Continue Reading
Sevres Porcelain
Sevres Porcelain - The company history, its products, its double L mark and the main periods. Sevres porcelain history starts in 1738 when the Marquis Orry de Fulvy, brother of the Minister of Finance, obtained from the French king Louis XV a licence to manufacture porcelain in the Saxon manner At that time the brothers Dubois, who were arcanists that fled from Chantilly, had already experimented to produce porcelain at the Chateau de Vincennes. Together with Gravant, they succeeded in ...
Continue Reading
Bow Porcelain
A little about the Bow Porcelain Company, the factory history and founder Thomas Frye. The Bow Porcelain Company was set up in East London to emulate Chinese porcelain and it did it so well that the factory was built according to an East India Company chinese prototype and was called New Canton. Wedgwood, Meissen and Worcester are all famous names in the world of ceramics But 250 years ago it was Bow porcelain that attracted worldwide attention, thanks to a young Irish painter who settled ...
Continue Reading
Antique Terms (F)
The Antiques Marks Glossary and Antique Terms F Covering antique terms beginning with the letter 'F', everything from faberge to fusee and faience to furstenberg. Below you will find antique related words or antique terms begining with 'f' covering everything from faberge to fusee and many more that you might find useful. The list is not exhaustive but we will add to it as time goes by. The descriptions detailed are only intended to be relevant to how the word or term relates to ...
Continue Reading
Collecting Antique Ceramics
Collecting Antique Ceramics offers the widest range of opportunities for antique collectors, buyers, and sellers. When collecting antique ceramics, you are collecting some of the most delicate, most beautiful and most varied items that manufacturers can produce. There are vastly more antique objects made of pottery, porcelain, earthenware or stoneware than of any other material and you probably have some beautiful antique ceramics in your home. You are more likely to possess antique ...
Continue Reading
Blue & White Tea Cups Antique Soft Paste Porcelain
Could somebody please help me find out how old these soft paste porcelain Blue and White Tea Cups are? by Kym (London, UK) Photo is of my Soft Paste Porcelain Blue and White Tea Cups I have researched and researched and cannot find any marks that are the same as the marks on these blue and white tea cups. I am now beginning to think they may be quite rare, please help. The blue and white tea cups are very short but wide. Very delicate and hand painted. I believe they are ...
Continue Reading