Antiques Roadshow (2)
Your Antiques RoadShow ... Page (2) More antiques and collectibles submitted by antique collectors seeking information or help with antique attributions. Including Georgian glass, Capodimonte porcelain, Wedgwood candlesticks and native American pottery. All sitting comfortably alongside an antique owl jug, blue & white figurines and Chinese vases. The headings and descriptions in the antiques roadshow are those of the owner, and they may be right or they might be ...
Continue Reading
0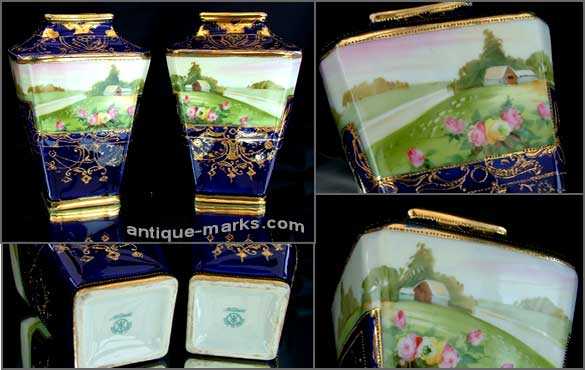 Noritake China: History & Marks
Guide to Noritake China & Dating Noritake Marks - Antique Marks Noritake china production began around 1876 here we take a brief look at Noritake China & Noritake Marks The Morimura Brothers formed the Noritake company in Tokyo and opened an export office in New York. They initially produced a full range of china marked with the Nippon mark and also sold china in-the-white, ie; blanks for decorating by outside agencies and decorators, thus the quality of the earlier finished ...
Continue Reading
0

Collect Japanese Antiques & Reap Rich Rewards
Japanese antiques provide a link to the rich culture and fascinating history of Japan. The collector has many choices but Kutani, Satsuma and Imari ceramics are a good choice as are the more affordable Netsuke
Continue Reading
Oriental Porcelain Figure or is it European?
Need help the marks on this Oriental Porcelain Figure by Jeff & Hellen (Gun Barrel City, TX, USA) Seated chinaman with a basket of carp in his lap. Solid white glaze, 11.5in tall porcelain figure with under glaze cobalt blue three point crown and crossed swords under the crown. Photos of a truly awesome piece of Oriental porcelain< with marks on lower rear Above photos show the detailed lines in figures hands of my Oriental porcelain figure Picked the figure up at an ...
Continue Reading