Dresden Porcelain
A brief look at Dresden Porcelain and the Dresden Crown mark. Dresden Porcelain is often confused with Meissen porcelain, but only because Meissen blanks were used initially. However, Dresden porcelain refers more to an artistic movement than a particular porcelain company In fact, several competing ceramic studios emerged under the Dresden umbrella, particularly in the Saxony capital in response to the rise of romanticism during the 19th century. Dresden was an important centre ...
Continue Reading
0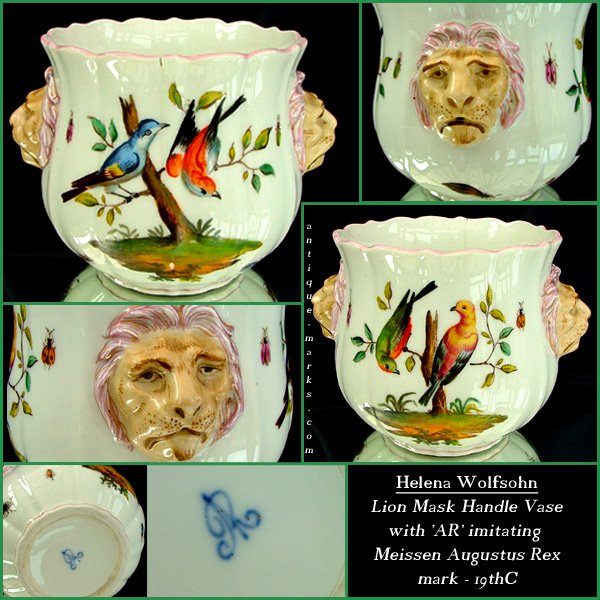 Meissen Marks
Antique Meissen Marks and the blue crossed swords mark imitators. Not all blue crossed swords marks are genuine Meissen marks. Knowing what to look for and the dates that are relevant to each Meissen mark can help you avoid buying imitation Meissen porcelain. You should remember that the marks detailed below are mostly drawn by hand and that slight variations in the format occur and the mark only supports the source and doesn't testify to it. The true test of an antique Meissen ...
Continue Reading
Dresden Meissen Porcelain Centerpiece
Opinions please ... Is this a Dresden or Meissen Porcelain Centerpiece? by Mirna G Ramirez (Escondido, CA) We recently met an old German gentleman and while buying some puppies from him, my husbands mother who was interested in porcelain antiques, noticed the old man had this piece in his garage.   Above photos show the Dresden or Meissen Centerpiece and the Panel Decoration   The other two photos above show the artist signature the decoration on the porcelain body and the blue ...
Continue Reading