Johann Friedrich Bottger
Johann Friedrich Bottger (1682 to 1719) and his place in the origins of Meissen Porcelain. Johann Friedrich Bottger, an alchemist, discovered porcelain after being held under house arrest in 1700 by order of Augustus the Strong, the elector of Saxony. Although the 18-year-old Johann Bottger had committed no crime, Augustus had heard that the young man was an alchemist hoping to create gold from base metals. If gold was to be made, Augustus wanted the secret for himself. Bottger was ...
Continue Reading
0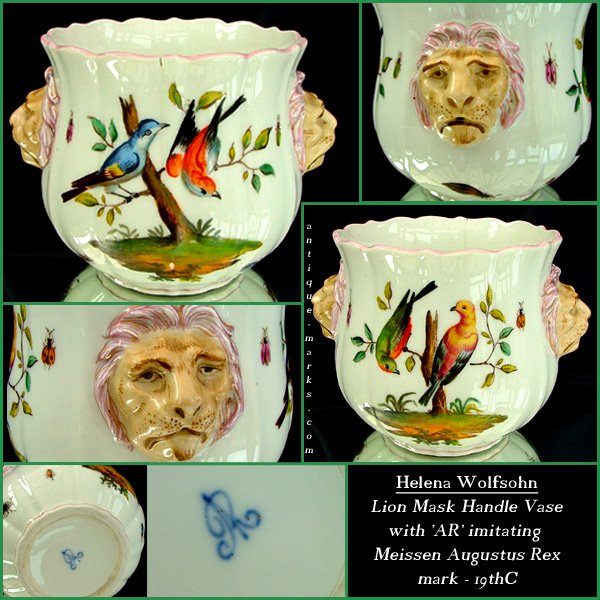 Meissen Marks
Antique Meissen Marks and the blue crossed swords mark imitators. Not all blue crossed swords marks are genuine Meissen marks. Knowing what to look for and the dates that are relevant to each Meissen mark can help you avoid buying imitation Meissen porcelain. You should remember that the marks detailed below are mostly drawn by hand and that slight variations in the format occur and the mark only supports the source and doesn't testify to it. The true test of an antique Meissen ...
Continue Reading
Meissen Porcelain
A brief look at the origins of Meissen porcelain and the characters involved. The Meissen Porcelain story began when Augustus II The Strong; Elector of Saxony and King of Poland (1670-1733), protected the goldsmith Johann Friedrich Bottger from the Prussians pursuing him. The protection of this passionate collector of Chinese and Japanese porcelain, together with the encounter of Bottger with the scholar Tschirnhaus and the artistic influence of the designer J. J. Kaendler and the painter ...
Continue Reading
0

Antiques Collection: Helena Wolfsohn Vase
A lovely little vase by the very popular imitator Helena Wolfsohn who produced some outstanding porcelain using Meissen blanks but then went on to mark them with an AR mark in imitation of the Meissen Augustus Rex mark. The porcelain is exceptional and the artwork is of the standard you would expect from Meissen
Continue Reading
Antique Berlin Porcelain
The History of Antique Berlin Porcelain ... The Company, Johann Ernst Gotzkowsky, Frederick the Great and Berlin Porcelain Marks. The Berlin porcelain factory was founded in 1761 by Johann Ernst Gotzkowsky, who picked up the pieces of the factory belonging to Wilhelm Casper Wegely, after it went bust in 1757. However, the manufacture of Berlin porcelain actually started in 1751 When Wegely, a wool-manufacturer, obtained a licence to set up a factory with the help of many Meissen and Hochst ...
Continue Reading
Collecting Antique Ceramics
Collecting Antique Ceramics offers the widest range of opportunities for antique collectors, buyers, and sellers. When collecting antique ceramics, you are collecting some of the most delicate, most beautiful and most varied items that manufacturers can produce. There are vastly more antique objects made of pottery, porcelain, earthenware or stoneware than of any other material and you probably have some beautiful antique ceramics in your home. You are more likely to possess antique ...
Continue Reading