0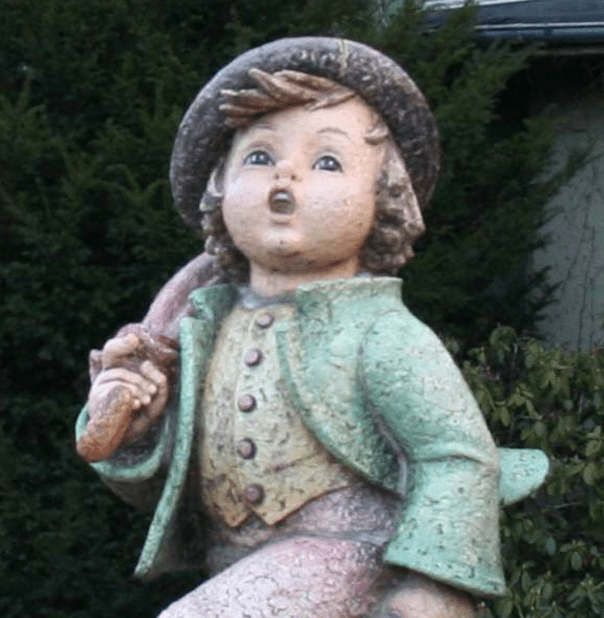 Hummel Marks & Markings
Hummel Marks from TMK-1 to TMK-8 The Crown Mark, The Full Bee, The Stylised Bee, The Missing Bee, and other Hummel Marks and Hummel Markings. The first three hummel figurines Puppy Love, Little Fiddler and Bookworm were marked FF15, FF16, and FF17. When they were first created the figurine series designation or mold numbers had not yet been set up. When Goebel reached a licensing agreement with Sister Maria and the Convent in 1935, the early figurines were then marked HUM1, HUM2, and ...
Continue Reading
Hummel Figurines Gallery
A look at some beautiful Hummel figurines and how collectable they are. Not a definitive guide to M I Hummel figurines, just a quick look at the style and features of a Hummel figure. Most are beautifully cute rather than realistic This small collection is intended to show the style rather than inform on technical collector details. Relevant makers marks can be found in the Hummel Marks. From TMK-1 to TMK-8 and The Bee Mark section. Hummel Figures Gallery ... We have added ...
Continue Reading
Berta Hummel Figurines
Your Guide to Antique Hummel Figures and Hummel Marks Hummel figurines are based on drawings and paintings of children by Sister Maria Innocentia Hummel, (also known as M.I. Hummel). Sister Maria was born in 1909 in Massing, Bavaria, and later became a nun and artist in Germany Her birth name was Berta Hummel and Berta gained her artistic direction at an early age from the Institute of English Sisters. In 1931 Berta entered the covent of Siessen at Saulgua. Two years later she was ...
Continue Reading
Hummel Girl Figurine
I discovered this potential Hummel Girl Figurine while out on a local thrift shop hunting trip. by Dave (Greensburg, PA) Top photos show my Hummel Girl Figurine from the front, and a rear view of the Hummel figurine. Bottom photos show the side view and the signature mark on the Hummel Girl Figurine I am not all that familiar with Hummel figurines, and I wasn't quite sure who she is or even if she is authentic. I realize that the Hummel Girl figurine is supposed to carry the Goebel ...
Continue Reading