Antique Collectibles Gallery
Derby Porcelain A selection of Derby & Royal Crown Derby Porcelain both antique and modern. By Derby artists and designers that exemplify the Derby style. [foogallery id="11823"] Antique Wedgwood China Our gallery of Wedgwood Pottery & Porcelain including Wedgwood china, Majolica, Queens Ware, Jasperware and Daisy Makeig-Jones fairyland lustre. [foogallery id="11841"] Moorcroft Pottery A gallery of our excellent selection of Moorcroft Pottery collectibles featuring some ...
Continue Reading
0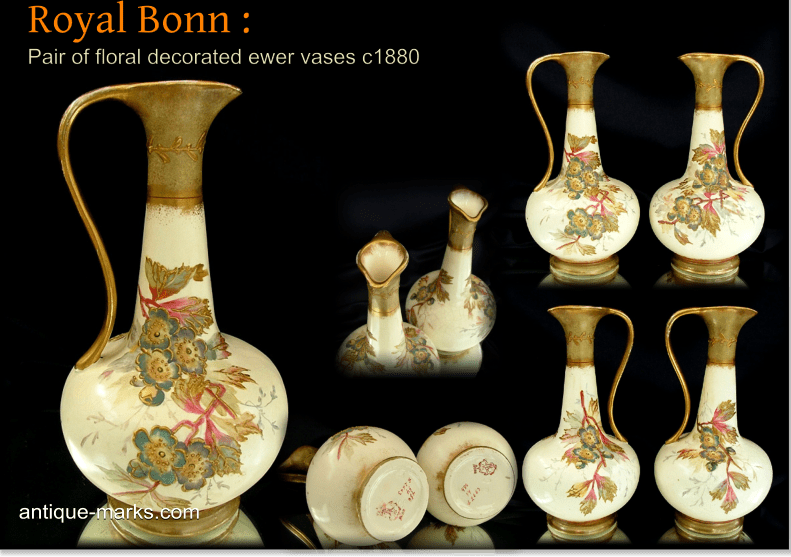 Antiques Collection: Pair of Royal Bonn Vases c1880
Good quality European porcelain in a matched pair of Antique Royal Bonn Vases in the form of ewers both with requisite Royal Bonn printed logo together with decorators & workmans marks
Continue Reading
Dresden Porcelain
A brief look at Dresden Porcelain and the Dresden Crown mark. Dresden Porcelain is often confused with Meissen porcelain, but only because Meissen blanks were used initially. However, Dresden porcelain refers more to an artistic movement than a particular porcelain company In fact, several competing ceramic studios emerged under the Dresden umbrella, particularly in the Saxony capital in response to the rise of romanticism during the 19th century. Dresden was an important centre ...
Continue Reading
Charles Noke
Charles Noke was Royal Doultons premier designer and modeller. Here we examine why and Charles Noke's life, his work, the Doulton relationship and his history. In 1899 the Doulton studio recruited a young designer by the name of Charles Noke. He is now regarded as the brainchild behind Royal Doulton seriesware, a range of products were standard blank pottery shapes (everything from plates to jugs, bowls to vases and teapots) could be decorated with a consistent theme. Initially, Charles ...
Continue Reading
Naples Porcelain Gallery
To trace the history of Naples Porcelain you have to look at the origin of Capodimonte Porcelain. The masterpieces of the Royal Factory of Capodimonte are astonishing in their demonstration of Italian skill and craftsmanship. In little more than half a century the Royal Factory at Capodimonte produced the finest porcelain and ceramic dinner ware and ornaments in its own superb, unique and complete style. In particular the Bisquit which does not redden with age (unlike those of Saxony and ...
Continue Reading
Naples & Capodimonte Porcelain
The History of the Naples Porcelain company and how Capodimonte porcelain fits in. To trace the history of Naples Porcelain you have to look at the origin of Capodimonte Porcelain, the wares and the crowned N mark and periods. And; how production of Capodimonte Porcelain Figurines and floral displays dates back to the early eighteenth century and to the Kingdom of Naples. The father of Capodimonte porcelain is considered to be Charles of Bourbon (1716-1788) Son of Philip V of Spain and ...
Continue Reading
Royal Vienna Porcelain
Collecting Royal Vienna porcelain and Vienna Portrait Plates and Wall Plaques. The Royal Vienna Porcelain factory was founded in 1717 by Claudius Innocentius Du Paquier. Du Paquier, on studying father d'Entrecolles' letters and after conducting experiments hoped, with the help of Christoph Conrad Hunger, to reveal the secrets of porcelain production. His attempts were unsuccessful until 1718, when he secured the services of the arcanist Samuel Stölzel, a previous employee of the ...
Continue Reading
Antique Baby Figure Money Bank
Can you Tell Us Anything About this Antique Baby Figure Money Bank by Mida (Ontario, Canada) I had this antique baby figure money bank passed down to me from my mother, who received it from her 82 year old grandmother (my great grandmother). To the best of my knowledge my great grandmother received it when she was 5 years old (in 1916) in what was former Yugoslavia (now Croatia) from her aunt who was 96 at the time. Not sure where her aunt got the antique money bank ...
Continue Reading