Derby Porcelain Gallery
A varied selection of Derby Porcelain products both antique and modern By Derby artists and designers that exemplify the Derby style. Porcelain plates, figures and vases that demonstrate the superb quality of Royal Crown Derby products. Not all Derby products are as collectible as the items featured below and most are well within range of any porcelain collectors budget. The products we feature here are simply used to demonstrate what you could find. If you search hard enough. William ...
Continue Reading
Chelsea Porcelain Marks
Chelsea Porcelain Marks including the triangle period, the red anchor period and the gold anchor period. Well before the Derby Porcelain acquisition Chelsea's reputation for quality products had been envied the world over. And a great many rival companies sought to capitalise on that reputation by marking their own wares with a mark similar to the Chelsea anchor mark. The Chelsea Porcelain Marks and particularly the anchor mark were copied by many other manufacturers. These companies ...
Continue Reading
0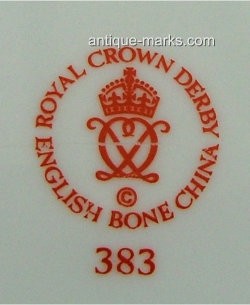 Antique English Porcelain Factories
Antique English Porcelain Factories ... The manufacturers history, the makers marks and antique periods. 18th Century antique english porcelain manufacturers followed in the steps of the French in that the vast majority of porcelain produced was of the soft paste type. In 1567 two European potters arrived in England, from Holland They brought with them the production methods for tin-glaze pottery manufacture. This type of pottery is known as delftware in England, and it flourished in ...
Continue Reading
Antique Gallus Gallus
Need more information on my antique Gallus Gallus jug by Mr. F.E. O'Doherty(London, England) Photos show my Gallus or Owl Jug side view, Rear View and a close up of the Gallus Gallus Owned by my partners family since 1947 at least and devoid of a certifiable provenance. This Decorative ceramic owl jug is hand painted to represent a "Gallus gallus" or is it an Owl. It fell into no particular category among their numerous collections. It seems to me to have been bought and kept ...
Continue Reading
Pagoda Landscape Cup and Saucer
Pagoda Landscape Cup and Saucer - Is it the popular Willow Pattern? by Charles (Peterborough, England) Hi, I am trying to identify the maker of this rather pretty cup and saucer. It has a feel of age about it and is nicely decorated with what I call a Pagoda Landscape pattern. A bit like a willow pattern. Uploaded photos provide side views of the Willow Pattern Cup and views of the saucer. It doesn't feel oriental, more old English porcelain, but has no makers marks on either the cup or ...
Continue Reading