Dresden Porcelain
A brief look at Dresden Porcelain and the Dresden Crown mark. Dresden Porcelain is often confused with Meissen porcelain, but only because Meissen blanks were used initially. However, Dresden porcelain refers more to an artistic movement than a particular porcelain company In fact, several competing ceramic studios emerged under the Dresden umbrella, particularly in the Saxony capital in response to the rise of romanticism during the 19th century. Dresden was an important centre ...
Continue Reading
0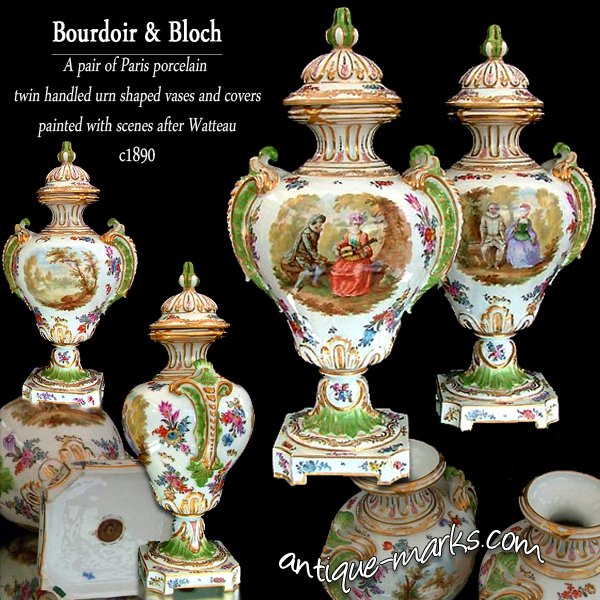 Paris Porcelain Vases by Bourdoir and Bloch
Paris Porcelain is to France what Dresden Porcelain is to Germany. Porcelain by a variety of makers from a region rather than one maker. In this case Porcelain de Paris is also as good if not sometimes better than Dresden, Meissen or Sevres porcelain and is certainly a collectible to look out for
Continue Reading
Dresden Imari Bowl
Can anyone help me identify the makers marks on this imari bowl and saucer? by Richard (ENgland, UK) Photo shows my Imari Bowl pattern & the Makers Marks I have an imari bowl and saucer which has been used to house a small plant pot for years. I thought it might be an idea to try to identify the marks on it but after hours of searching pages and pages of porcelain marks on line I have drawn a blank. I wonder if anyone can help me identify the makers marks on this imari bowl and ...
Continue Reading
Collecting Antique Meissen Pre-1840 Porcelain
Early Meissen porcelain is among the most sought after and widely collected European ceramics in the world. Although the well known Swan Service pattern is still in production today, it was originally made between 1737 and 1743. Original pieces are owned by a great wealth of collectors, so finding one is a rare event indeed. Look out for rococo style pieces and figures by early Meissen sculptors like Johann Joachim Kaendler, Johann Friedrich Eberlein and Peter Reinecke. That's if ...
Continue Reading